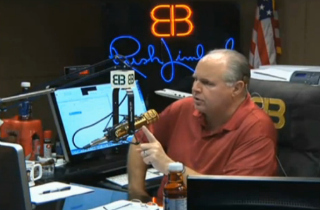 On his syndicated radio show Monday afternoon, conservative host Rush Limbaugh predicted that if President Barack Obama wins re-election, it will mean an end to the Republican Party and the triggering of economic collapse within 18 months.
"How long does this country have if Obama wins?" Limbaugh asked. "We're headed toward an economic collapse and we are the leader of the world. And when it happens to us, there are reverberations all over the world […] How long is it going to take? I'm asking a serious question. 18 months? You throw ObamaCare onto what we know what we are going to get from Obama — more debt, more spending, the expansion of the welfare state. How long can this go on?" he continued.
He went on to refer to MSNBC host Chris Matthews saying last week that an Obama re-election would mean the end of conservatism. "Nope," Limbaugh disagreed, "if Obama wins, it's the end of the Republican Party."
"There's going to be a third party that's going to be orientated towards conservatism — or Rand Paul thinks libertarianism," he continued. "If Obama wins, the Republican Party will try to maneuver things so conservatives get blamed. The only problem is right now, Romney is not running a conservative campaign."
"But they're going to set it up, 'Well, the right sat home, the right made Romney be other than he is.' They'll try to deflect the blame, but they got who they want," he said of the Republican Party's selection of Mitt Romney for president.
"How long do we have, folks? I know people, who think 18 months before a real United States economic collapse," he concluded.
Watch below (via FoxNation):
— —
>> Follow Andrew Kirell (@AndrewKirell) on Twitter
Have a tip we should know? tips@mediaite.com