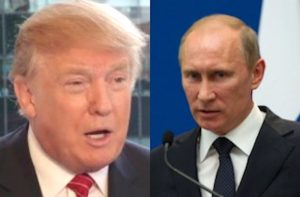 In an interview with the state-run media outlet Interfax, Russia's Deputy Foreign Minister Sergei Ryabkov confirmed that the Russian government was in contact with several members of Donald Trump's campaign. This is in direct contradiction of what Donald Trump himself said during the election.
"Obviously, we know most of the people from his entourage," Rybakov said. "Those people have always been in the limelight in the United States and have occupied high-ranking positions. I cannot say that all of them but quite a few have been staying in touch with Russian representatives."

"We have just begun to consider ways of building dialogue with the future Donald Trump administration and channels we will be using for those purposes," Ryabkov was quoted as saying.
Ryabkov didn't provide any names from Trump's team. However, senior Trump adviser Michael Flynn has appeared many times on Russia Today, Russia's propaganda channel. He also sat at the same table as Vladimir Putin during a dinner for RT. Former advisers Paul Manafort and Carter Page also had reported ties with Russian officials.
While Trump was very complimentary of Putin during the campaign and continuously questioned whether Russia was behind various email hacks, despite US intelligence saying they were, he also denied having any direct contact with Russia or a relationship with Putin. Of course, this was in conflict of what he said in 2013, when he claimed they did have a relationship.
Russian officials openly celebrated Trump's surprising election victory over Hillary Clinton.
[image via screengrab]
–
Follow Justin Baragona on Twitter: @justinbaragona
Have a tip we should know? tips@mediaite.com