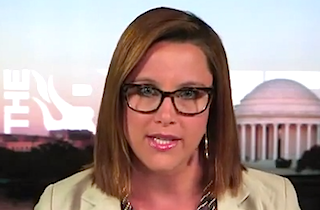 After hacked nude photos of celebrities like Jennifer Lawrence and Kate Upton landed on the web over the weekend, comedian Ricky Gervais responded with this Twitter message: "Celebrities, make it harder for hackers to get nude pics of you from your computer by not putting nude pics of yourself on your computer."
But while Gervais was later forced to backtrack, deleting his original tweet and clarifying that he was not blaming the "victims" in this case, CNN's S.E. Cupp decided to defend his sentiments in an op-ed for the New York Daily News published Tuesday night.
"This elaborate blame game shifts responsibility from an obvious fact: It just isn't wise to keep nude photos of yourself on the cloud if you don't want them made public," Cupp writes of the debate spawned by the massive photo leak. While she insists she's not "excusing the hackers" or "trying to stifle the right of women to express themselves sexually," Cupp says the simplest solution would be for celebrities to stop taking naked photos of themselves.
Which brings Cupp to Gervais. "The response to rational people like Gervais, in addition to accusing them of slut-shaming and victim-blaming, is to liken the photos to other everyday things we use and don't want stolen," Cupp writes, pointing to one Twitter user who made the analogy of not owning a credit card so that hackers can't steal the number adding the hashtag "#rickygervaislogic."
"Um, no. This is the flawed logic of people who can see victims in everything, and yet to whom common sense remains an invisible, elusive mythology," she responds. "For one, unless we are fugitives, we must use credit cards. We do not yet live in a world where we must take nude photos."
Cupp goes on to assert that "owning things that are valuable, like flashy cars, expensive jewelry or photos of naked celebrities, does actually make you more susceptible to theft," a fact that does not equal "victim-blaming" in her assessment.
She concludes:
I'm very sorry we don't live in a world where celebrity nude photos are unhackable. But until we have technology that is 100% impenetrable, doesn't it only make sense to say that if you don't want your nude photos stolen, don't take nude photos with technology that makes their dissemination easy or store them on technology that can be hacked?
Cupp furthered her point during a debate on the topic with TheBlaze's Will Cain Wednesday. Watch video below, via TheBlaze:
[Photo via screengrab]
— —
>> Follow Matt Wilstein (@TheMattWilstein) on Twitter
Have a tip we should know? tips@mediaite.com