S.E. Cupp: Hillary Must Prove Trump-ISIS Claim or Apologize for Fear-Mongering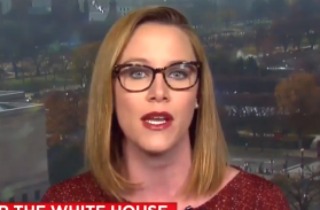 Conservative commentator S.E. Cupp has expressed her displeasure with Donald Trump's many times, and made plenty of arguments against his inflammatory remarks on various groups.
Nonetheless, Cupp wrote a column yesterday for the NY Daily News, saying she was unimpressed by Hillary Clinton's resorting to Trump-ish tactics and rhetorical half-truths in order to generate bombshell support.
Ever since the Democratic debate, Trump has been attacking Clinton (again) and calling her a liar for saying that ISIS was using videos of his rhetoric as part of their anti-American propaganda. While Clinton never actually said that ISIS incorporated Trump's words in their own video productions, Cupp noted that political fact-checkers have still found no evidence supporting Clinton's claim, no matter how conceivable the assertion might be.
"While it isn't hard to imagine that ISIS appreciates the unsophisticated and bombastic way that Trump talks about Muslims, coming from the former secretary of state, this charge… sounded a lot like the fear-mongering Trump is often (accurately) accused of," Cupp wrote.
From there, Cupp noted how Clinton and President Obama have often condemned Trump's inflammatory bluster, but now the Democratic frontrunner is going down to Trump's level. While Cupp said that the claim doesn't negate Trump's factually debunked assertions like seeing American Muslims holding massive celebrations of 9/11, Clinton should be held to the same standard of accountability.
Cupp's final point was that even if Clinton's former secretary of state status made her privy to information that backs her up, she should either bring it forward, or, if it's classified, show better judgement with what she says.
The fact is, Hillary Clinton either made it up or misspoke. In either case, she should produce the video or apologize. She should be held to the same standard as he is. And she shouldn't be so quick to scold Trump for fear-mongering. She's right there with him.
[Image via screengrab]
— —
>> Follow Ken Meyer (@KenMeyer91) on Twitter
Have a tip we should know? tips@mediaite.com