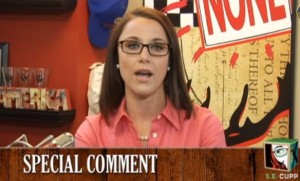 After a weekend of blogging and tweeting attacks from Current TV Chief News Officer (is it just me, or does that sound like a job posting for TASS?) Keith Olbermann, conservative pundit S.E. Cupp struck back this morning with a Special Comment of her own. Responding to Olbermann's relentless barrage of insults about her intelligence, her honesty, and her parents, Cupp turned the former Countdown host's signature segment against him.

The assault began last week, as Olbermann tweeted a wisecrack about Cupp's parents making use of Planned Parenthood's services. When challenged, Olbermann backed off of the existential meaning of his tweet, but continued to lay on the insults about Cupp and her parents. Challenged by this site to demonstrate the "lies" he accused Cupp of telling on The Joy Behar Show, Olbermann opted for a bad Pee Wee Herman homage.
Today, Cupp tackled the subject head-on with a Special Comment segment directed at Olbermann, Planned Parenthood, and NOW. She apologized to her parents for Olbermann's behavior, and made the point that her appearance on The Joy Behar Show, while contentious, was the very model of what an impassioned political discussion should be. She also accused Olbermann of "cheapening" the abortion debate, saying that abortion isn't a punchline. (This is almost always true.)
S.E. also called on the National Organization for Women to denounce Olbermann. On his Twitter feed, Olbermann bristled at the suggestion that his attacks on Cupp had anything to do with her gender, and while his attack wasn't explicitly sexist, Olbermann does have a questionable history on the subject, particularly with regard to Carrie Prejean. In NOW's defense, they have previously inducted Olbermann into their Hall of Shame.
Still, without a smoking gun (or b*tch, or c**t), I wondered what S.E. really expected a group like NOW to say on this subject.
"I think that Olbermann's cheapening of the abortion issue for his own gain should raise the eyebrows of any group that claims to protect the rights of women," S.E. told me, "N.O.W. in particular, which regularly assails conservative women for their purported politicization of right-to-life issues."
In any case, it's hard to make the argument that Olbermann's actions here reflect well on Planned Parenthood, and its supporters (myself included). This is the point that eludes those liberals who reflexively defend Olbermann.
Here's S.E. Cupp's Special Comment, from The S.E. Cupp Show: (Newsbusters has the transcript)
Have a tip we should know? tips@mediaite.com