Sad News From NPR: Daniel Schorr, Veteran Newsman and NPR Staple, Dead at 93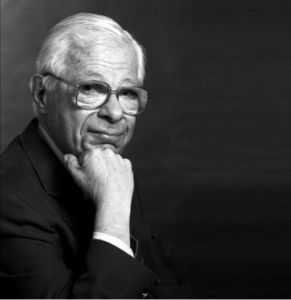 The journalism profession lost a lion today — Daniel Schorr, longtime NPR senior news analyst and, before that, CNN correspondent and member of CBS's news team for almost three decades. According to NPR's release, Schorr, 93, died at home peacefully surrounded by his family after a short illness.
In its obituary, NPR called Schorr "a living history book" — in his decades in the business, he covered the Marshall Plan after World War II, the building — and the fall — of the Berlin Wall, Sputnik, reopened CBS' Moscow office (and was then subsequently barred from the Soviet Union), Washington through umpteen presidents, helped launch CNN, and, awesomely, was on Nixon's enemies list. He remained active through the very last months of his life, gamely joining Twitter (dropping commentary and the occasional joke: "Would you call a summit over beer a 'brew-haha'?"), and six months ago switched to composing his commentary for "All Things Considered" on a computer, rather than a typewriter. He was a fan favorite of any regular NPR listener, and clearly the staff as well. Memo from NPR President and CEO Vivian Schiller below.
From: NPR Communications
Sent: Friday, July 23, 2010 12:49 PM
To: AREPS; AllStaff
Subject: From Vivian Schiller: Dan Schorr
Importance: High

All –

I have very sad news to share. We've just learned that Dan Schorr died peacefully this morning surrounded by family, at the age of 93. His family has asked us to share this news with the extended NPR community.

It's impossible to overestimate Dan's impact on journalism — from his early days working with Edward R. Murrow, to the founding of CNN, to the last 25 years as NPR's news analyst, a familiar and beloved voice to millions of listeners. Every one of us who happened to see Dan coming in to work — walking a little more slowly with time but with a razor-sharp wit and warmth that never dimmed — learned a lesson in the dedication, determination, and integrity that it takes to be the best. He was.

NPR will air an obituary, and you'll soon find tributes, Dan's archived commentaries, and a retrospective on NPR.org. Additionally, we're preparing a one-hour special about Dan to make available to all stations. Joyce MacDonald and her staff will be in touch with stations as soon as possible with those details. We'll share news of a possible memorial service once we know more.

Please join me in remembering this great man.

– Vivian
Related:
Journalism Legend Daniel Schorr Dies At 93 [NPR]
Daniel Schorr: 90 Years in a Newsworthy Life [NPR]
Daniel Schorr on Twitter [Twitter]
Photo of Daniel Schorr courtesy of NPR; seating chart from the CBS Washington bureau, circa 1969, drawn by Bob Schieffer, from Roger Mudd's The Place To Be.
Have a tip we should know? tips@mediaite.com