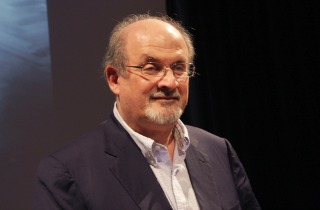 Reacting to Wednesday morning's terrorist attacks on Charlie Hebdo, author Salman Rushdie issued a powerful statement condemning religious violence and calling upon the world to defend "the art of satire."
Three gunmen stormed the French satire magazine's office in Paris, killing 12 people including several of the cartoonists who produce the outlet's famously controversial artwork. All signs point to the attacks as being retribution for the magazine's repeated caricaturization of the Muslim prophet Muhammed, as attackers reportedly told people during the shooting.
"Religion, a mediaeval form of unreason, when combined with modern weaponry becomes a real threat to our freedoms," Rushdie said in a statement. "This religious totalitarianism has caused a deadly mutation in the heart of Islam and we see the tragic consequences in Paris today."
The British novelist is most famous for authoring The Satanic Verses, a 1988 that stoked major controversy after Muslim leaders perceived it to be full of blasphemous imagery. Death threats ensued, including a fatwā issued by Iran's then-Supreme Leader calling for his assassination. Since then, Rushdie has become one of the world's most prominent critics of religious fundamentalism and its attempts to squash free speech.
"I stand with Charlie Hebdo, as we all must, to defend the art of satire, which has always been a force for liberty and against tyranny, dishonesty and stupidity," he added.
He did not mince words with his conclusion: "'Respect for religion' has become a code phrase meaning 'fear of religion.' Religions, like all other ideas, deserve criticism, satire, and, yes, our fearless disrespect."
— —
>> Andrew Kirell (@AndrewKirell) on Twitter
Have a tip we should know? tips@mediaite.com