Sam Smith Congratulated Himself on Being the First Openly Gay Oscars Winner… But He Wasn't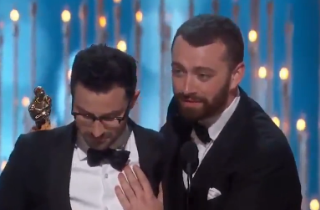 Last night, it was widely assumed that Lady Gaga would win the Oscar for Best Original Song. That theory seemed foolproof once it was announced that Vice President Joe Biden would be introducing her powerful performance of the song she was nominated for, "Til It Happens to You."
The category ended up producing one of the biggest upsets of the night, however: Sam Smith took home the award for his James Bond theme, "Writing's On the Wall." People reacted accordingly.
Even as a huge Sam Smith fan I have to say the Oscar should've gone to Lady Gaga tonight. Bloody hell. Absolutely gobsmaked.

— eden (@Edennnnnx) February 29, 2016
Me after watching that @ladygaga peformance & then hearing @samsmithworld win best song. #Oscars #OscarBert pic.twitter.com/g6OEeMcUA3

— Kristin Klingshirn (@KrisKling) February 29, 2016
Relatively crappy. Sam Smith is a talent, but come on. How does "Til It Happens to You" not win?

— Richard Roeper (@richardroeper) February 29, 2016
@TMZ @samsmithworld Lady Gaga got robbed!

— Chuck (@cjg917) February 29, 2016
The chatter was cut short by Smith's acceptance speech, however, which he dedicated to the LGBT community.
People were receptive to that, at least.
Congratulations @samsmithworld! Very powerful message at the end. So happy for you brother.

— Charlie Puth (@charlieputh) February 29, 2016
Though, of course, there were still detractors.
I'd never seen an #Oscars winner claim to be a pioneer, all while not recognizing an actual one standing next to him. Thanks, Sam Smith.

— Jamil Smith (@JamilSmith) February 29, 2016
honestly anybody who considers themselves a "proud gay man" would give their oscar to lady gaga

— Matt Bellassai (@MattBellassai) February 29, 2016
But no one served Smith harder than Dustin Lance Black, you see. While Smith was self-congratulatory in his acceptance speech and wondered aloud if it could be true that he was the first openly gay person to receive an Oscar, Black, who received his in 2009 and is engaged to diver Tom Daley, was watching. He was not pleased. 
Hey @SamSmithWorld, if you have no idea who I am, it may be time to stop texting my fiancé. Here's a start: https://t.co/8hGTRtIaMK

— Dustin Lance Black (@DLanceBlack) February 29, 2016
THE POINT: knowing our LGBTQ history is important. We stand on the shoulders of countless brave men and women who paved the way for us.

— Dustin Lance Black (@DLanceBlack) February 29, 2016
Smith was misquoting a Sir Ian McKellan interview. McKellan had been referring very specifically to gay actors. Obviously, Black and Elton John are among the openly gay recipients in other categories.
McKellan was generously far less sassy in his response to Smith's mistake.
I'd said no openly gay actor had received #Oscars-that doesn't detract from @samsmithworld achievement. Congratulations to him & all others!

— Ian McKellen (@IanMcKellen) February 29, 2016
Overall, the award for Best Original Song ended up being uncomfortable in a variety of ways. Gaga must have had a very schadenfreude-y morning.
Lady Gaga clapping Sam Smith in the audience. pic.twitter.com/MIuhbuEeSZ

— Lady Gaga Now (@LadyGagaNowNet) February 29, 2016
UPDATE — 3:20 pm EST:
The plot thickens. Smith wrote back to Black with this:
@samsmithworld Congratulations. Drink water. Rest. But do check out some of the other Gay Oscar work out there. Some truly wonderful stuff.

— Dustin Lance Black (@DLanceBlack) February 29, 2016
That's shady in its own right, especially the "belated congrats." Also, the "mix up" could refer to the first-gay-Oscar thing or the texting-someone-else's-fiancé thing. Black seemed gracious enough, though, and appeared to concede that the hatchet was buried.
Renowned detector of shade Perez Hilton was on hand to stir the pot, as usual, tagging Daley in the exchange.
@samsmithworld @DLanceBlack @TomDaley1994 pic.twitter.com/XmItRXLhXI

— Perez (@ThePerezHilton) February 29, 2016
[image via screengrab]
For more from Lindsey, follow her on Twitter.
Have a tip we should know? tips@mediaite.com