San Diego Police Investigate Letter Sent from Their Dept. Calling Protesters 'Animals'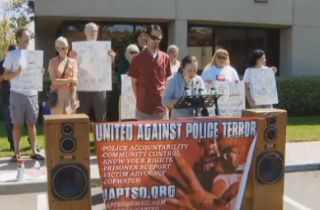 The activist group United Against Police Terror recently asked the San Diego Police Department to look into a threatening, obscenity-filled and highly derogatory bit of hate mail they recently received on their blog. Things have taken an interesting turn though, for when investigators traced the email's Internet Protocol address, it actually led them right back to the Sheriff's Department.
The San Diego Union Tribune reported that spokeswoman Cat Mendonca and Lt. Marco Garmo held a press conference on Tuesday where they said that an internal investigation was underway, acknowledging that the IP address did, indeed, come from their computers.
"The email said 'real citizens' do their job, and that the (Ferguson) protesters were looting, were animals. There was a lot of racial stuff," Mendonca said. She also stated that one of the more disturbing parts of the email was when the writer described the protesters in Ferguson last month as drug addicts and gang members.
"The police aren't the problem. It's the criminals out there victimizing the real citizens of the country that are the problem," the email wrote. "The good people of this county and country will always prevail over scum like you. Good luck. Your going to need it."
Jeff Olson, of Socialist Alternative, also spoke at the event, saying that the sheriff must fire the perpetrator and make it clear to his employees that such behavior would not be tolerated.
You can see the email here, via UAPT's San Diego Twitter account:
@SDSheriff sent us hate mail not realizing we can look up their ip add. @SDCityCouncil @p91fun @my2cnz @dillonliam pic.twitter.com/Bq70GmjSOc

— UAPTSD (@UAPTSD) September 17, 2015
[h/t Raw Story]
[Image via screengrab]
— —
>> Follow Ken Meyer (@KenMeyer91) on Twitter
Have a tip we should know? tips@mediaite.com