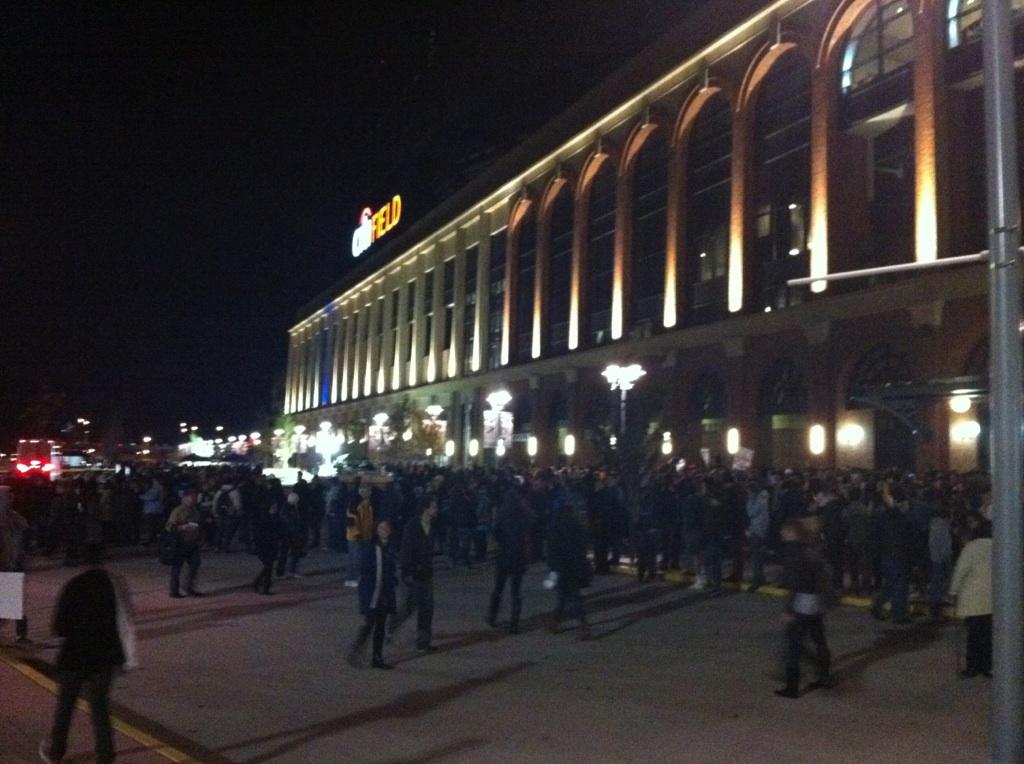 While we wait for the preliminary non-Twitter reports from today's Rally to Restore Sanity and/or Fear*, photos are coming in of last night's/this morning's mass migrations down south to DC, where millions are expected to either restore sanity, fear, or both. Who knows! As promised, Arianna Huffington provided mass transport from several locations in New York City to the rally, and, according to ralliers, delivered well on that promise.
At around 5 AM this morning, Queens' Citi Field flooded with rally-goers looking for their free trip down, courtesy of the Huffington Post. According to Matt Flores and Anthony Jabbour of the blog Late Night Done Right, the process for boarding was surprisingly streamlined:
"Thousands showed up with signs, dogs, babies and four loko. At first, the entire idea seemed doomed; people were standing on 20 different lines, no one knew where to go.

Ten minutes later, at about 5:45, we were on a bus."
Sounds pretty efficient, save the, uh, four lokos before dawn. Flores, en route to DC, further told Mediaite that "Huffington Post did a wonderful job getting everyone assembled and signed in. Thousands showed up with everything from witty signs to babies to alcoholic energy drinks. The crowd was overwhlemingly friendly and sane, even at 5:30 am."
Of course, this was only the beginning of the day, long before the crowds arrived in Washington. The rally proper begins at noon, and it is as yet unclear how the numbers for this rally compare with Glenn Beck's "Restoring Honor" rally on August 28th. Mediaite will be updating regularly with the latest on the ground in DC, so stay tuned for new posts!
*The Twitter reports are coming in fast and furious, describing such radically polarizing sign messages as "this font is big" and "this is why we can't have nice things."
Have a tip we should know? tips@mediaite.com