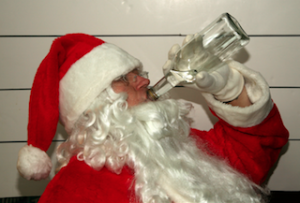 You'll need to watch out, you'll probably cry, most certainly pout, and I'll tell you why: Santacon is coming to town. Yes, Santacon, a convention that the official website admits happens every December for "absolutely no reason," convenes today, and New Yorkers couldn't be more full of Christmas cheer… er, fear. In case you're wondering, Santacon, like Christmas, comes once every year, only instead of presents and family and goodwill towards men, it involves hordes of people dressed up as Santa getting sh*t-faced.
This event tends to get rather rowdy, with an army of Santas on a citywide bar crawl, but the relative chaos caused by all these drunken, rowdy Santas has made even the founder of the annual tradition rethink things.
"I wouldn't care if New York banned it. I don't like the violence or the assholishness that happens… They had a lot of fun. Now, go do something else."
According to The New York Times, this festive night has been plaguing the streets of New York since 1997, and if you want to know just how screwed up this whole thing is, look at this actual tweet sent by the actual Santacon Twitter account.

It's not often when something involving Santa has to come with a warning not to make untoward sexual advances, but then Santacon's always been pretty unique. In fact, it's gotten so rowdy in recent years that last month, the NYPD actively encouraged bars to not serve any participants, but in a classic sign of mixed messages, Commissioner Ray Kelly weighed in to settle the matter.
"This is an event that we support… It's what makes New York New York… Generally, it's a peaceful event and one that we want to support and facilitate."
You keep using that word, "peaceful." I do not think it means what you think it means.
And by the way, when I say everybody hates Santacon, I mean EVERYBODY, from Anthony Bourdain to Greg Gutfeld and everyone else in between.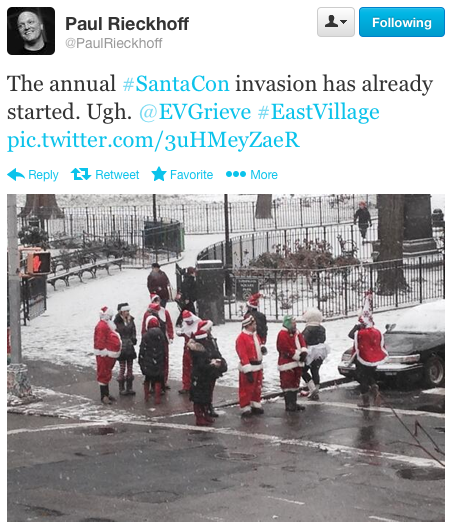 So kids, if you see Santa Claus climbing up your chimney tonight, he's probably sloshed and you should call the cops.
[h/t Gothamist]
[photos via Shutterstock, screengrab]
— —
Follow Josh Feldman on Twitter: @feldmaniac
Have a tip we should know? tips@mediaite.com
Josh Feldman - Senior Editor