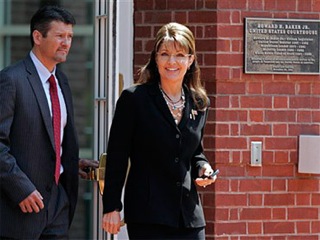 Sarah Palin took a break from the neverending political firestorm that surrounds her today to address a badly-sourced National Enquirer story linking her husband Todd to a madam/prostitute arrested in Anchorage last March. Calling in to a radio talk show in Alaska this morning, Palin noted that such "b.s." was especially "painful" because it came from Alaskans and went viral internationally thereafter.
Perhaps anticipating the media blackout proposed by WaPo's Dana Milbank for next month, Palin went all-in on some nationally obscure (but pervasive in Alaska) rumors that the snowmobile racer formerly known as the First Dude had somehow become entangled with a woman of the night who masqueraded as a massage therapist for the Palin campaign. The Enquirer reported, in typical non-John Edwards form, that the story could destroy both the Palin marriage and the Palin political juggernaut, since such well-respected sources as "political bloggers" and "thepalinmorals@hotmail.com" had chipped in information that said massage therapist got in the way of the former governor's marriage. Silly as the story may be, it seems to have gotten under Sarah Palin's skin, as she addressed the rumors on The Bob and Mark Morning Show this morning.
Asked by the hosts whether it "hurts your heart a little that you're treated harsher in Alaska than anywhere in the country," Palin cited those rumors as an example of what really did hurt her, politically and emotionally. "Look at this recent b.s. about Todd being all caught up in this prostitution ring in Anchorage," she noted, wondering why no one came to him– or her– to ask about the rumors. "Heck, somebody all they needed to do was to ask him 'Hey, Todd, have you been hanging out with hookers in Anchorage?" she laughed.
Turning serious, she called the rumors a "waste of time," as they caught the attention of the media and turned it away from political issues the matter, and repeated that she did find the rumors "hurtful," especially because they came from Alaskans. Nonetheless, she added graciously, "Todd and I and our kids know that we're extremely blessed," and those who should feel legitimately hurt in life are those who are having trouble with jobs, "or maybe have a sick child or are having health troubles of their own."
Listen to her statements from the Bob and Mark Morning Show below:

[h/t ABC News]
Have a tip we should know? tips@mediaite.com