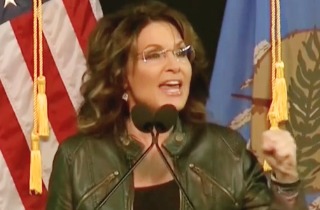 Former Republican Veep candidate Sarah Palin penned a blistering op-ed Monday morning, assailing Republicans who had been disloyal to Donald Trump and the "nationalist revolution" that he represents — and also disloyal to her.
Palin takes particular issue with Sen. Ted Cruz, the GOP presidential contender who put up the hardest fight against Trump and drew the nominee's ire when he concluded his convention speech not with an endorsement, but by exhorting Republicans to vote their conscience. Or, as she glossed it, when "Ted Cruz's suicide vest detonated at the GOP convention."
Writing in Independent Journal Review, the onetime governor argued that the Republicans who were wary of Trump were cut from the same turncoat cloth as the people who waffled in their support of her.
I've been asked all year questions like why it seems I'm "relegated" to outsider status of current political machines; why there's no longer a seat at the talking heads TV table; why'd previous "friends" commence public condemnation of me despite me never changing my values, priorities or loyalties to the right causes. The question is suggested, "Don't you know if you just go along to get along you'd be in the big shots' good graces?"

The answer is obvious as more dots get connected during this election season's fall out.

The shifting and sifting you'll see explains what goes on inside their grimy games. What's left intact are lessons in how to survive, not how to make friends. For me, it's all continued confirmation to never put my hope and faith in the political arena; instead I'll be productive by choosing God and family to give me validation, definition and joy.

A significant exposition is the billionaire Mercer family's financial ties to Cruz, his SuperPACs, think tanks, media outlets, and donor class hanger-oners [sic] like Glenn Beck, which will explain why guys (like Mercer-affiliated Beck) did a 180 on me – and you – with inexplicable personal attacks to invalidate us. The inconsistencies and random attacks they engaged in have been so, well, RANDOM that was hard not to giggle publicly at their bizarreness.
"So now we must rise to the challenge of becoming better, not bitter," she concludes.
—
Sam Reisman (@thericeman) is a staff editor at Mediaite.
Have a tip we should know? tips@mediaite.com