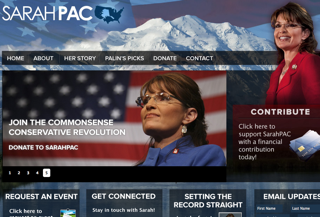 With the 2012 Presidential race a veritable media circus since the Donald Trump birther parade rolled in, many have been wondering when his temporary eclipsing of presumed frontrunner last year Sarah Palin would end. Searching for a sign, Politico reported today that Palin had redesigned her PAC website, which is "the first move in sometime that will give oxygen to speculation that Palin is planning a presidential run."
"The new site, sarahpac.com," writes Andy Barr, "is a necessary step if Palin intends to run for president and for the first time gives her organization the ability to interact with her supporters by providing a centralized location to collect data and solicit donations." He highlights the email list in particular– something Palin did not have before– as well as its blog and social networking features. Coupled with her speech in Wisconsin on Saturday, Barr is highlighting it as a return to presidential campaign form for the former Alaska governor.
It is true that, should Palin run, she would need the virtual infrastructure in this site and all of its grassroots amenities to do so. 2008 was a campaign defined by internet mobilization; 2012 will demand full understanding and dominance of the web. It is also true that her speech, vintage Palin with its folksy rhetoric, struck a nerve among a certain population on the right that identifies with her in a way that they had not connected to her in some time. But what is also true, and what Greta Van Susteren wryly points out on her blog today, is that her new website could also just herald in a new age for Sarah Palin in which she has a nice website. Just as presidential candidates would need to have interactive websites, so would activists like Palin who are recruiting volunteers and funds for other candidates. Claiming Palin is running for president because of her new website is like saying Michael Steele's short-lived career as the editor of "What Up?" was a sign he would run for president, too. That said, it is a fairly smooth way of reentering a rather convoluted national dialogue to which Palin's position could provide structure.
Have a tip we should know? tips@mediaite.com