Sarah Sanders Defends Trump's 'Destroy North Korea' Remarks by Taking Obama Way Out of Context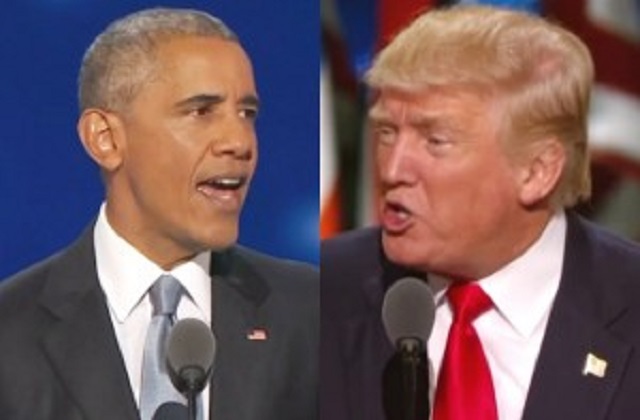 President Donald Trump set the international community ablaze today by saying America could destroy North Korea if the rogue nation continues its international aggression. The president's debut before the United Nations is drawing massive intrigue from the media and political worlds, and Press Secretary Sarah Huckabee Sanders is justifying Trump's remarks by saying they're not so different from what predecessor Barack Obama has said.
Presidents have always been clear to deter threats: "We could, obviously, destroy North Korea with our arsenals" –@BarackObama last year

— Sarah Sanders (@PressSec) September 19, 2017
There's a slight problem though: the context and framing of the remarks are quite different.
Sanders was referring to an interview Obama gave to CBS last year, where the former president talked about the reasons why North Korea is a major diplomatic challenge.
Here are Obama's remarks, emphasis ours:
"It's not something that lends itself to an easy solution. We could, obviously, destroy North Korea with our arsenals. But aside from the humanitarian costs of that, they are right next door to our vital ally, Republic of Korea. One of the things that we have been doing is spending a lot more time positioning our missile defense systems, so that even as we try to resolve the underlying problem of nuclear development inside of North Korea, we're also setting up a shield that can at least block the relatively low-level threats that they're posing right now."
In this sense, Obama was giving a matter-of-fact statement about what America is capable of in terms of military might. He did not, however, recommend the destruction of the Hermit Kingdom as a viable resolution to the crisis.
When Trump delivered his speech today, he indicated that America is "ready, willing, and able" to attack the rogue nation if they continue their weapons testing and the U.N. cannot bring the Kim regime under control.
"The United States has great strength and patience, but if it is forced to defend itself or its allies, we will have no choice but to totally destroy North Korea. Rocket Man is on a suicide mission for himself and for his regime. The United States is ready, willing and able. But hopefully, this will not be necessary."
[Image via screengrab]
— —
>> Follow Ken Meyer (@KenMeyer91) on Twitter
Have a tip we should know? tips@mediaite.com