Sarah Sanders: Trump Reversed on North Korea Because He 'Likes Chairman Kim,' Thinks Sanctions Not 'Necessary'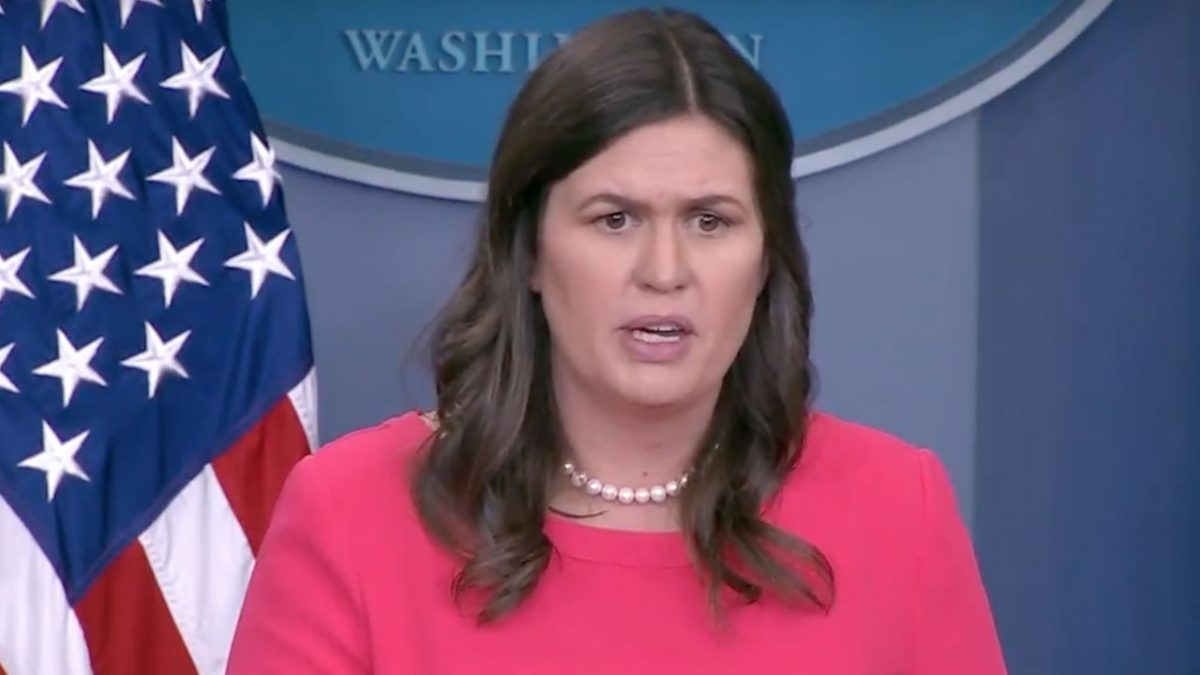 President Donald Trump made a surprising announcement appearing to reverse additional sanctions on North Korea imposed by the Treasury Department.
It was announced today by the U.S. Treasury that additional large scale Sanctions would be added to those already existing Sanctions on North Korea. I have today ordered the withdrawal of those additional Sanctions!

— Donald J. Trump (@realDonaldTrump) March 22, 2019
Trump's statement set off what one reporter described as "mass confusion", but White House Press Secretary Sarah Sanders has issued a statement explaining what's going on.
"President Trump likes Chairman Kim and he doesn't think these sanctions will be necessary," she said.
How the White House is explaining the president's tweet reversing North Korea-related sanctions that his administration imposed yesterday: @PressSec: "President Trump likes Chairman Kim and he doesn't think these sanctions will be necessary."

— Kaitlan Collins (@kaitlancollins) March 22, 2019
The statement has not exactly helped much:
Still unclear what sanctions Trump was referring to in his tweet and we are waiting on the White House to clarify further.

More to come. https://t.co/h5OkUU2PZo

— Zachary Cohen (@ZcohenCNN) March 22, 2019
LOL "clarifies" https://t.co/PN3wuE7hdE

— Julie Davis (@juliehdavis) March 22, 2019
Not to belabor this, but this makes no sense.

Zero sense.

Actually, less than zero. Negative sense. https://t.co/2aWuj9S3Zu

— S.V. Dáte (@svdate) March 22, 2019
NOW: @PressSec statement: "President Trump likes Chairman Kim and he doesn't think these sanctions will be necessary." We *think* but still trying to confirm this means he is undoing the sanctions on two Chinese shipping cos that Treasury announced yday.

— Margaret Talev (@margarettalev) March 22, 2019
Allow me to take a moment's break from berating a dead man to tell you how much I like Kim Jong Un.

— Chris Hayes (@chrislhayes) March 22, 2019
He's rewarding Kim for pantsing him.

Un. Be. Freaking. Lievable. https://t.co/hLjXttToiP

— Rick Wilson (@TheRickWilson) March 22, 2019
UPDATE –– 6:47 pm ET: Hours after Sanders' unclear statement, per the Washington Post, sources are now saying Trump was reversing "a future round of unannounced large scale sanctions expected for next week":
Sources say Trump did not withdraw the North Korea sanctions from Thursday, instead he's canceling a future round of unannounced large scale sanctions expected for next week. It was a major communications failure as a result of his ambiguous tweet

— John Hudson (@John_Hudson) March 22, 2019
[image via screengrab]
Have a tip we should know? [email protected]
Josh Feldman - Senior Editor