'Say it to My Face': Conor McGregor Tries to Drum Up Interest in Farcical Boxing Match With Floyd Mayweather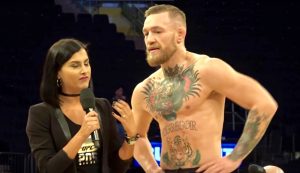 It is unclear just how much UFC lightweight champion Conor McGregor for his fight on Saturday at Madison Square Garden against Eddie Alvarez. But in his previous fight against Nate Diaz, the mixed martial arts star earned a purse of $3 million.
When former boxing champion Floyd Mayweather faced off against Manny Pacquiao in May 2015, he made upwards of $220 million.
This explains why Conor McGregor wants so very badly to get in a boxing ring with Mayweather — a desire he expressed in a pair of videos by TMZ Sports.
Ready to rumble? Conor McGregor responds to Floyd Mayweather's comments! pic.twitter.com/I4Snb3Baka

— TMZ Sports (@TMZ_Sports) November 16, 2016
Floyd Mayweather is sick of the Conor McGregor comparisons!
Check out the clip and don't miss the full thing on TMZ Sports tonight on @FS1! pic.twitter.com/xXDBPnMgWp

— TMZ Sports (@TMZ_Sports) November 15, 2016
The exchange began with Mayweather calling McGregor "an ant."
McGregor responded: "Tell him to say that to my face!"
McGregor went on to say that he'd be game to take on Mayweather in a boxing match for $100 million.
This whole kerfluffle, of course, is ridiculous. But the end result may very well be a fight between the two, as absurd as the concept may be. Floyd Mayweather was the best pound-for-pound boxer of his era. (Mayweather, for now, still maintains that he's retired.) Conor McGregor is establishing himself as the best mixed martial arts fighter of his era. Mayweather would win in the ring. McGregor would win in the octogon. It seems pretty simple.
But it's quite likely that several million people would plunk down $100 a piece in pay-per-view fees to find out for sure. We suspect they'll get the chance.
Watch above, via TMZ Sports.
[image via screengrab]
–
Follow Joe DePaolo (@joe_depaolo) on Twitter
This is an opinion piece. The views expressed in this article are those of just the author.
Joe DePaolo - Senior Editor