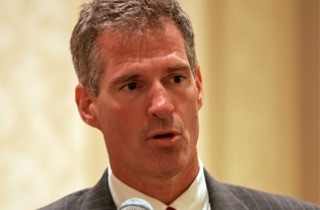 Contrary to all the prior reports that former Sen. Scott Brown (R-MA) will seek to return to the Senate via running for Secretary of State John Kerry's vacant seat, Brown has opted to stay out of the upcoming special election.
Hours after The Boston Herald reported he was "leaning strongly" towards a Senate bid, Brown reportedly texted the newspaper that "U are the first to know" that he will not run.

The Washington Post also reported a similar scoop, citing Republican sources close to Brown.
UPDATE: The Herald updated its post with a summary of Brown's official reasons for opting out:
Brown said in a statement this afternoon that being in the Senate was "the greatest privilege" of his life — after the marriage to his wife and the birth of his two daughters — but he's not ready for a third Senate campaign "in less than four years."

"Over these past few weeks I have given serious thought about the possibility of running again, as events have created another vacancy requiring another special election. I have received a lot of encouragement from friends and supporters to become a candidate, and my competitive instincts were leading in the same direction," Brown wrote.

"Even so, I was not at all certain that a third Senate campaign in less than four years, and the prospect of returning to a Congress even more partisan than the one I left, was really the best way for me to continue in public service at this time. And I know it's not the only way for me to advance the ideals and causes that matter most to me," he added.
[h/t Boston Herald]
Have a tip we should know? tips@mediaite.com