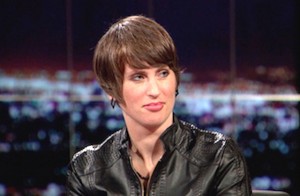 Wisconsin Gov. Scott Walker's new digital communications consultant Liz Mair has resigned the Associated Press reports. She had been widely ridiculed for her past comments bashing the state of Iowa and its important role in the presidential nominating process, among other issues.
"The tone of some of my tweets concerning Iowa was at odds with that which Gov. Walker has always encouraged in political discourse," Mair said in a statement obtained by the AP. "I wish Gov. Walker and his team all the best."
Mair had been on the job for not even 24 hours when the Des Moines Register uncovered some of her tweets which not only went after Iowa's role in presidential politics, but also its so-called dependency on ethanol subsidies. Ironically, Mair also criticized Rep. Steve King's (R-IA) Iowa Freedom Summit, which was pivotal in launching Walker to the top tier of Republican candidates.
Mair has yet to address her resignation on social media, but had this to say earlier this evening about the Israeli elections:
Well, looks like all that liberal "ooh, Bibi's gonna get crushed because Israelis don't like him tarnishing US relationship" shit = bogus.

— Liz Mair (@LizMair) March 18, 2015
She also acknowledged earlier Tuesday that some of the pushback is "getting to [her]," which most likely previewed her resignation:
It's been a rough 24 hours, I'll admit, and some of what I've seen in the media is getting to me.

— Liz Mair (@LizMair) March 16, 2015
[Image via HBO / screengrab]
— —
>>Follow Andrew Desiderio (@forza_desiderio) on Twitter
Have a tip we should know? tips@mediaite.com