Scruffy The Kitten's Euthanization Causes Uproar On Humane Society's Facebook Page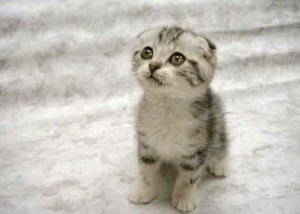 Visitors to the Arizona Humane Society's Facebook page on Wednesday were treated to scores of angry posts on its wall, with people saying they will stop donating, telling the AHS they should be ashamed of themselves, and calling them "pathetic," disgusting," and "low life scum." One man simply wrote "murderers." Their crime? Euthanizing a nine-month old kitten named Scruffy (not pictured) because her owner, Daniel Dockery, a recovering heroin addict, didn't have the $400 needed to perform surgery on her when he brought Scruffy in.
The Arizona Republic's Robert Anglen initially reported the story on Christmas Eve, writing on Dockery's recovery from addiction and how the care and nurturing of Scruffy helped to ease him into a world free of drugs. "For the past nine months, [Dockery] said his closest companion has been Scruffy the cat."
On Dec. 8, Dockery brought Scruffy to the Humane Society so they could tend to wounds the kitten received from barbed wire fencing. The AHS told Dockery that the bill would be around $400. Dockery tried to pay by having his mother read her credit card number over the phone — the Humane Society refused. He then asked for 24 hours to have his mother wire cash from Michigan. They again refused, and told him that the only way Scruffy would be treated was, "if Dockery 'surrendered' the animal and signed away his ownership rights."
Fearing that she was in pain, Dockery signed Scruffy over. He was told Scruffy would be operated on and then likely put up for adoption. So, over the following two weeks, he went to every shelter in the area, and "looked at every cat in every cage," according to Anglen — but still no Scruffy. Anglen couldn't get an answer from anyone at the AHS about where Scruffy was or what happened to her. Then, late on Tuesday, Anglen reported that Scruffy was put down. Making matters worse? Anglen confirmed that the AHS killed her "not because of its wounds, but because its owner could not immediately pay for its care." The Society explained that three cats were brought in for treatment in the "second chance" clinic — but there were only enough resources to treat two. Scruffy was the odd kitten out.
"Now I've got to think about how I failed that beautiful animal," Dockery told Anglen. "I failed her. … That's so wrong. There was no reason for her not to be treated."
RELATED: Adorable Grooming Cat Steals CNN Rep. Weiner Segment From Mary Matalin
The Arizona Humane Society says that it will reconsider accepting payment over the phone, and said that they had "every intention of treating the cat and putting it in foster care," but the excuses don't seem to be helping calm the masses on the Facebook page, or in the comments section of Anglen's stories. There is, however, a touching note at the end of all of this — Dockery, for all the grief the AHS has caused him, still believes in the mission.
"I don't want to turn people away from the Humane Society," he tells Anglen. "They do do good works."
Have a tip we should know? tips@mediaite.com