Sean Spicer: Reporters Ask Snarky Questions at Briefings to 'Become YouTube Stars'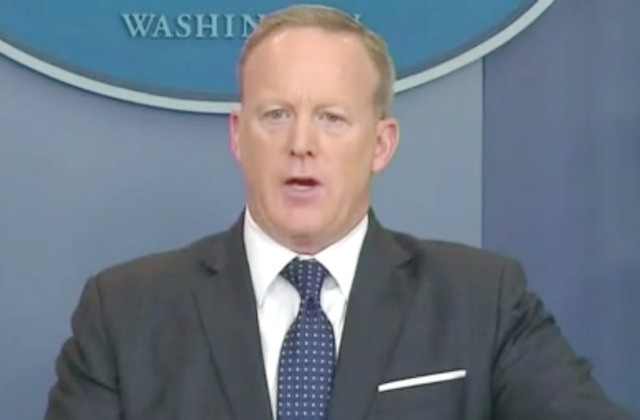 White House Press Secretary Sean Spicer is calling out some members of the press corps for focusing on questions that would make them "YouTube stars."
Spicer spoke today to radio host and LifeZette editor-in-chief Laura Ingraham––who said just yesterday she's not interested in taking the press secretary job––today following the criticism the White House received over Monday's off-camera, no-audio briefing.
Spicer held an on-camera briefing yesterday and took a number of questions, though he could not give a definitive answer on whether the President believes Russia interfered in the election. (CNN's Jim Acosta called out, "Didn't the President say it was fake news?")
Today Spicer told Ingraham, per LifeZette, that they are still accessible to the press and there's an element of going viral in some of the more confrontational questions:
"There's a lot of them that want to become YouTube stars and ask some snarky question that's been asked eight times. And that's right, that's their right to do that. But it's our job to make sure that we're providing updates and readouts of what the president is doing and the advances he is making on his agenda."
Ingraham agreed that it does become "performance art" to some degree, while Spicer added that there's a better focus on substance over "snarkiness" when reporters aren't trying to get their "clip" out there (like in off-camera gaggles).
Yesterday, Spicer faced a question about press availability during the briefing. He said, "We have a tremendous respect for the First Amendment, your ability to do your job and report and seek out ideas, and then we're gonna work with you. I think the briefing is one aspect of what we do."
[image via screengrab]
— —
Follow Josh Feldman on Twitter: @feldmaniac
Have a tip we should know? tips@mediaite.com
Josh Feldman - Senior Editor