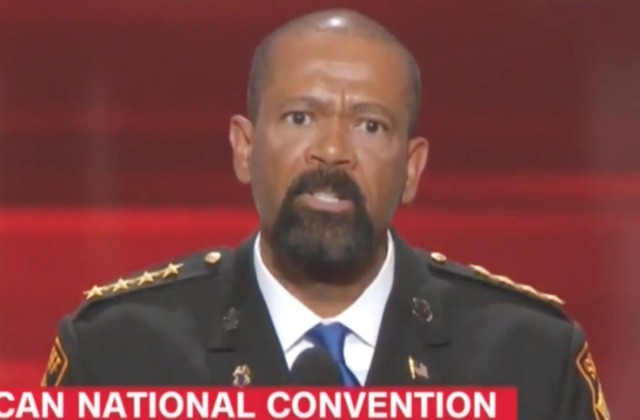 Conservative blog Media Equalizer has been running an extensive three-part series on Sheriff David Clarke's response to CNN's Andrew Kaczynski, whose reporting sunk Clarke's would-be role at the Department of Homeland Security.
Clarke who — when he's not neglecting prisoners at his Milwaukee jail is traveling the country threatening strangers and collecting novelty pins — bashed Kaczynski in an interview with Media Equalizer, a blog pitched as the right wing response to Media Matters (*shudders*).
After reports surfaced that Clarke, an outspoken and controversial supporter of President Donald Trump would be taking a job at the DHS, CNN's K-File team found that Clarke had plagiarized 47 parts of his 2013 master's thesis with the Naval Postgraduate School.
The K-File sleuths previously sunk Monica Crowley's would-be nomination for a communications post at the the National Security Council after they found the Fox News contributor had plagiarized large parts of her 2012 book What the (Bleep) Just Happened?.
Since withdrawing from consideration for the post, Clarke has repeatedly derided Kaczynski as a "college dropout." Speaking with Media Equalizer, Clarke said Kaczynski is "not accomplished," a "hired gun," a "defamation-of-character specialist," and "a purveyor in his smear tactics."
"He uses fear and intimidation against his targets — it's electronic terrorism," Clarke added.
The Media Equalizer series itself goes to strange lengths in an attempt to smear Kaczynski, declaring him a partisan agent using "seemingly dishonest tactics" to target Republicans. Part Two of the write-up details Monica Crowley's struggle with Kaczynski's allegations, noting that her brother-in-law Alan Colmes had recently died of cancer and detailing her stress-induced weight loss — "dropping to 100 pounds on an already-thin frame," they write.
In a bizarre paragraph, Media Equalizer writes of Kaczynski: "in-between bachelor parties and menu choices, the two-time college drop-out and soon-to-be married man dropped another partisan bombshell when he reported that Sheriff David Clarke had allegedly plagiarized portions of his master's thesis."
"CNN's [sic] wonderkind is just a kid. A rich one, perhaps," the story writes.
[image via screengrab]
—
Follow Aidan McLaughlin (@aidnmclaughlin) on Twitter
Have a tip we should know? [email protected]
Aidan McLaughlin - Editor in Chief