Secret Service Agents Reportedly Drunk When They Ran into White House Barricade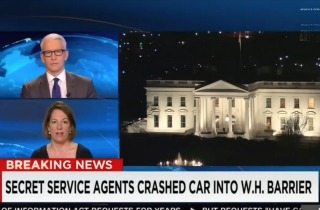 Remember that time a couple of Secret Service agents crashed their car into a White House barricade, and everyone was like, Go home, Secret Service agents, you're drunk, and the Secret Service was all Nuh-uh, this was a "love tap" and of course our agents weren't drunk driving?
Yeah, they were totally drunk driving.
The Washington Post reports that an investigation into the incident concludes that Marc Connolly and George Ogilvie, the two senior-level agents involved in the crash, were "more likely than not" pretty smashed when they ran into a barricade erected near the White House.
According to the report, prior to the crash, the two men had spent roughly five hours in a DC bar where Ogilvie bought 14 drinks, "mostly Scotch". Multiple witnesses told the Department of Homeland Security that they believed the pair was under the influence, but that they were allowed to leave and the incident was not reported to Secret Service Director Joseph Clancy.
Oh yeah, and it definitely wasn't a "love tap":
The investigators noted that Ogilvie, who was driving, had to drive his car in a semicircle to get around the temporary bike-rack barricades, and then use his car's fender to push a barrel more than five feet out of the way.

"This was no mere 'bump' but rather extended contact to shove the barrel out of the way," the report says. "Additionally, apparently unknown to Ogilvie, his car passed within inches of the suspicious package."

The report says that Connolly told a senior supervisor that night that he had "f–ked up" and failed to notice alerts on his BlackBerry about the suspicious package investigation that was occurring on the compound.
Clancy quickly suspended the two men, five days after the crash occurred, but on the same day he learned about the incident from a friend who heard the rumors.
Connolly, the second-highest ranking officer in president Barack Obama's security detail, offered his resignation earlier this week in advance of today's Congressional hearing on the incident.
Watch the report from NBC below:
[Image via screenshot/CNN]
—
>> Follow Tina Nguyen (@Tina_Nguyen) on Twitter
Have a tip we should know? tips@mediaite.com