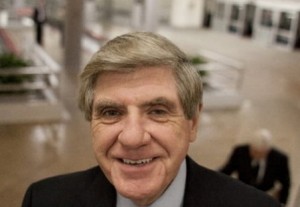 Sen. Ben Nelson (D- Neb.), who is finishing out his second term, is expected to announce his retirement as early as today, according to POLITICO's John Bresnehan. Nelson, 70, has already been stuck in the crossfire of a hotly-contested battle between Republican and Democratic groups hoping to claim his seat for their side. According to Bresnehan:
GOP-affiliated outside groups have already dumped hundreds of thousands of dollars into TV ads bashing Nelson, while the Democratic Senatorial Campaign Committee spent over $1 million on their own ad blitz to bolster his image.
Nelson's seat was especially intriguing because he represents an overwhelmingly Republican state, but still had a chance of winning the election. Without a strong Democrat, the seat could now go to the GOP, helping them to possibly topple the Democratic majority in the Senate.
The promising news for whichever candidate may replace Nelson (and the leading guess is former Senator Bob Kerrey, the man Nelson replaced)? The Republican opposition hasn't been whittled down just yet. The Washington Post speculates that as many as four Republicans could throw their hat in the ring, including Attorney General Jon Bruning, state Sen. Deb Fischer, state Treasurer Don Stenberg, and Gov. Dave Heineman.
On Sunday, the Journal Star's Don Walton wrote that if Nelson opted not to run, it would be a far less exciting campaign season for the state.
"Game over. Cork the champagne; turn off the lights," Walton wrote. "Nebraska Democrats would Occupy Neil Diamond, 'crying in your pretzels,' while he wails: 'What can I do to ease the pain?'
Have a tip we should know? tips@mediaite.com