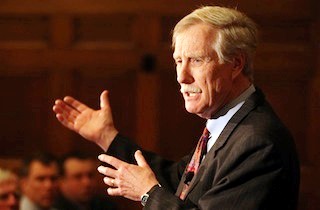 Senator Angus King (I-ME), an independent who often caucuses with Democrats, told Salon's Brian Beutler that conservative groups attempting to dissuade young people from joining the Affordable Care Act's exchanges were "guilty of murder."
"That's a scandal—those people are guilty of murder in my opinion," he told Beutler. "Some of those people they persuade are going to end up dying because they don't have health insurance. For people who do that to other people in the name of some obscure political ideology is one of the grossest violations of our humanity I can think of. This absolutely drives me crazy."
Conservative organizations have launched a concerted effort to convince younger people to pay the individual mandate's fine rather than sign up for the exchanges, potentially as a means to undermine the efficacy of the exchanges, which rely in part on healthier young people to moderate premiums.
King said he spoke from experience, recounting how he'd finally gotten health care when he became a staffer for Senator Bill Hathaway, allowng him to at last get a check up—and thus catching his melanoma just in time.
"I had a health policy that included in it a free annual physical as a part of the policy and they had evening clinic hours," King said. "And I wouldn't have taken the day off—and if that hadn't been covered under the insurance there's no doubt in my mind that I wouldn't have gone to have the checkup."
"The bottom line for me is 15, 20, 25,000 people a year die in this country because they don't have health insurance," King said. "Enabling more people to get coverage is not just common sense, it's humane. To me it boils down to a moral question, and that is would you allow someone sitting in front of you on the subway to die, or would you take some action—call 911 or a doctor or do CPR yourself. Most people would say no I would not allow someone to die. You have to realize that as a society we're answering 'yes' to 25,000 a year who are dying before our eyes and saying we don't care."
Read the full article HERE, via Salon.
[Image via AP]
——
>> Follow Evan McMurry (@evanmcmurry) on Twitter
Have a tip we should know? tips@mediaite.com