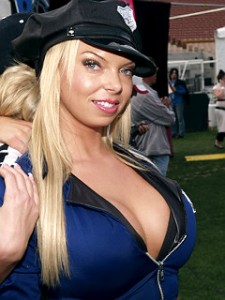 The grisly murder of Jasmine Fiore and subsequent suicide of her husband and prime suspect Ryan Jenkins is exactly the sort of brutal and sexy story made for sensational coverage. Earlier this week, we wondered about the media's go-to descriptor of Jenkins as a "reality star" despite his humble, low-brow brand of "fame." But equally interesting has been the sex-centric coverage of Fiore's tragic story, especially her career as a Playboy model and stripper. Today Sex Watch scours the web for the most shameless exploitation.
• The blogosphere's "strange, mad hunt" for Jasmine Fiore Playboy pictures The Week, Soft Sailor, Right Celebrity

There was an "online scurry" to find naked photos of the deceased — a search that proved futile when a handful of sources reported that although Fiore worked for Playboy, the nude pictures did not exist.
• "Jasmine Fiore Pictures and the Ryan Alexander Jenkins Reality" Associated Content
According the this lede, the fact that the internet is "burning for Jasmine Fiore pictures" was more newsworthy than the murder itself. The article goes on to identify the woman as "the swimsuit model whose naked body was found stuffed in a suitcase."
• "Police ID'd murdered model Jasmine Fiore by her breast implants; mom wants revenge on killer" New York Daily News
The popular tabloid reported that the despite her mutilated body, the "murdered bikini model" was identified by the serial number on her breast implants.
• "Jasmine Fiore: Bikini Model Murder Photos" CBS News
Wasting little time on words, CBS News relied heavily on a photo slideshow to tell Fiore's story. She was "a former swimsuit model seen here in a 2006 Lingerie Bowl promotional photo" according to the piece and can be seen here in various states of undress. Interspersed with the cleavage-filled set is one photo of Fiore's family in mourning.
Have a tip we should know? tips@mediaite.com