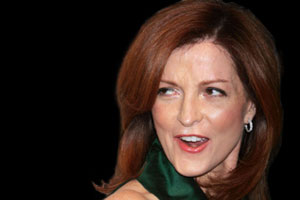 In her column today, Maureen Dowd writes about cowardly Internet bullies — all those bloggers out there who say the meanest stuff, and are seldom called to task for it. "On the Internet," she writes, "it's often less about being constructive and more about being cowardly."
Granted, Dowd puts her name on everything she writes. But the whole 'cowardly not constructive thing' — not so much.
• Just last weekend MauDo went after Anna Wintour. Alright, maybe she was more interested in celebrating the "sacred monster," but some of her jabs cut pretty deep: "Behind those bangs and dark glasses, is Anna human? Or did she tie Hermès scarves together and make a daring escape from District 9 in a getaway car driven by Oscar de la Renta?" Ouch.
• Dowd is a big fan of pet names (usually objectionable ones). Hence headlines like "Will Hillzilla Crush Obambi?"
• John Edwards got his share of smack from Dowd after his $400 haircut in a column called "Running with Scissors." We haven't reached the point," she writes, "where we can handle a green-tea-soy-latte-drinking, self-tanning-sea-salt-mango-body-wrapping, Norah-Jones-listening, yoga-toning chief executive."
• NYT public editor Clark Hoyt included Dowd's attacks on politicians in a column called "Pantsuits and the Presidency," responding to readers' complaints about the Times' slanted political coverage. A thick slice of those comments revolved around mean Maureen Dowd was:
But Dowd's columns about Clinton's campaign were so loaded with language painting her as a 50-foot woman with a suffocating embrace, a conniving film noir dame and a victim dependent on her husband … She often refers to Barack Obama as "Obambi" and has said he has a "feminine" management style. But the relentless nature of her gender-laden assault on Clinton — in 28 of 44 columns since Jan. 1 — left many readers with the strong feeling that an impermissible line had been crossed, even though, as Dowd noted, she is a columnist who is paid not to be objective.
Photo: Nancy Kaszerman/ZUMA Press via Salon.
Have a tip we should know? tips@mediaite.com