Sharon Waxman Talks To Mediaite About The Wrap's 45% Surge In Unique Visitors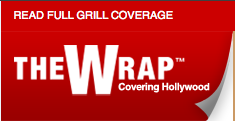 TheWrap.com – "a unique primary news source focused on the business of entertainment and media" – has experienced a spike in traffic over the last couple of months. Quantcast has the site bringing 732,000 uniques for the month of February (chart provided below) – a rise of more than 30% over their performance at the same time last year. And Google Analytics, which generally provides a more complete assessment of a site's performance, shows 1.1 million uniques – a whopping 45% jump from last February. Which got us wondering: What's their secret? What strange voodoo rituals have they been performing on the corner of Hollywood and Vine? In our case, the way you get (cue: horn tooting) 9.3 million unique visitors to come to your site is by … Well. We're not going to tell you.
Just know it involves a hedgehog, Jägermeister, and The Lion's secret basement.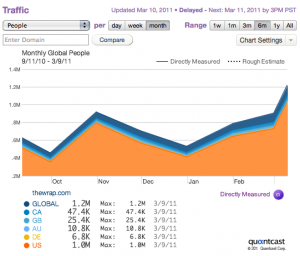 To gain more insight into The Wrap's success as of late, we spoke with the site's creator, Sharon Waxman. Might renewed interest in a certain Martian, animal-blooded warlock have anything to do with it?
While Waxman shares that the site has certainly been "aggressive" when it comes to covering the recent frenzy surrounding former Two and a Half Men star Charlie Sheen (For evidence, simply take a look at the "Charlie Central" section on the site's main page), there are other factors at play. Waxman told us that, so far, the site's best month in terms of numbers was January of 2010, with a solid performance throughout the end of 2010 as well.
The awards show, obviously, season saw a predictable influx of visitors to the Hollywood news and entertainment site, but those numbers have managed to stick through the beginning of March. Another contributing factor is the fact that IMDB.com – a go-to destination not only for determining whether your favorite C-list celebrity is still alive, but also for news on the movie industry and its major players – recently replaced The Hollywood Reporter with The Wrap as its main feed.
Speaking of The Hollywood Reporter… The industry news site posted an entry earlier today touting its record traffic for February – and boasting that its numbers for the month beat out those of its competitors, including The Wrap. The post lists The Wrap's uniques at a paltry 256,000, based on comScore numbers. The problem with using comScore as a reliable measure of visits is that, well, it just isn't very accurate, nor always a neutral source of information. (For more on how comScore works, check out this article from the Wall Street Journal. A quick Google search will also bring up various reports from disgruntled media types, bemoaning comScore's metrics.)
Waxman shared with us that she contacted comScore for clarification, and promptly learned they "couldn't defend their numbers" regarding The Wrap's February performance.
That little bit of unpleasantness aside, Waxman is tentatively optimistic about what the future holds for her site. "I don't want to believe it. Whenever a site gets a surge in numbers, it makes people like me nervous," she laughed, sharing her worry that the rise in numbers might simply be a temporary anomaly. But, she said, instead of transparently chasing down more pageviews, the site is committed to keeping its balance of hard news relevant to entertainment industry insiders (a relatively small group, she says, but a growing one) and bigger stories (like those relating to Mr. Sheen, for instance), with a larger consumer audience.
Have a tip we should know? tips@mediaite.com