Sharron Angle Claims Harry Reid Pressured The Las Vegas Sun To Change An Unfavorable Headline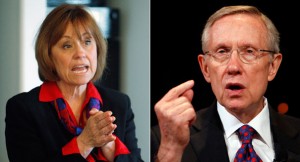 I guess what happens in Vegas doesn't always stay in Vegas. Nevada Republican Sharron Angle is accusing her opponent, Senator Harry Reid, of pushing the Las Vegas Sun to change a headline—one that originally lauded Angle as the winner of last Thursday's Senatorial candidates debate.
Alex Pappas of The Daily Caller writes that Angle made the accusation in an email sent to her allies:
Angle, in a fundraising pitch to supporters, said Reid was "calling in favors from the Las Vegas Sun" to change the headline and alleges that the change came after a meeting between Reid and the paper. The story in question is an analysis of the debate written by political columnist Jon Ralston.

"Right after Reid's debate defeat he went to visit the liberal Las Vegas Sun newspaper," Angle says in the fundraising email. "They've previously endorsed him and have been largely serving as the mouthpiece of the Reid campaign for well over a year. The night of the debate they had an article headlined 'Jon Ralston notes how Reid lost the debate to Angle.' After the meeting with Reid, however, the Sun changed its headline to 'Thoughts on the Reid-Angle debate'."
Pappas notes that another local paper, the Las Vegas Review Journal, also accused Reid of manipulating the Sun in a piece published last Sunday.
Despite the alleged headline switcheroo, Ralston's lede still praises Angle at Reid's expense. "Let's get the easy part out of the way first: Sharron Angle won The Big Debate," he writes. This in itself is notable; up until now, when we're written about Ralston and Angle, it's been to point out the unflattering things he's written about her.
And Ralston also isn't totally buying Angle's story. He told the Caller that he doesn't believe that Reid himself called for the title of the article to be changed: Ralston has "no knowledge of Reid going there," he said in an email. "Not a word of my column was changed. I don't know why the headline was changed."
So maybe I was wrong at the beginning of this post; the truth of what happened at the Sun doesn't seem to have left Vegas after all.
Have a tip we should know? tips@mediaite.com