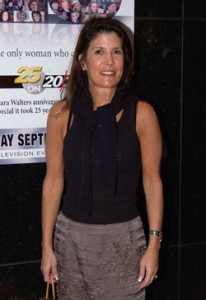 Former Good Morning America and PrimeTime Live executive producer Shelley Ross has launched the "daily Xpress," a blog focusing on "politics, pop culture news, law and justice, broadcast news trends and popular journalism." (Well, that will never work.)
Ross, who has worked in journalism for over three decades, has a very specific vision in place for the site, which she says will delve deep into stories and refrain from merely "falling into the media echo chambers filled with false, malicious, anonymous gossip." To do that, she plans to begin an "on-the-record dialog" about current events and newsmakers without hiding behind online anonymity (the site describes itself as "a pop culture and news blog with no anony-mousity") like so many "anonymouses," which are in no way meant to be confused with commentermites or moderaptors. Chuckle. Sigh.
In anticipation for the launch, Ross wrote 10 daily Xpress columns – on topics as varied as Charles Manson and the launch of Oprah Winfrey's OWN network – which attracted over 4,000 unique viewers despite being public nor publicized.
Ross decided to create a news and opinion site after reading a Pew Research report that noted how, last year, 65 percent of people under the age of 30 and 48 percent of those between 30 and 59 looked to the internet – and not to TV – as their main source for news.
The goals for the site are noble – not to mention rather timely given the current discourse dominating opinion news at the moment. Says Ross:
In today's new media everyone can have a voice. With this new power, we need to accept responsibility for our words and deeds, especially those of us in the news business.
Have a tip we should know? tips@mediaite.com