Shep Smith on Hurricane Matthew Evacuations: Stay and 'You and Everyone You Know are Dead'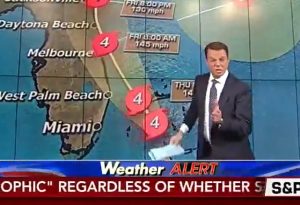 There are no words to describe the way Fox News Channel's Shep Smith has been covering Hurricane Matthew. There has been a lot of sensational coverage of what could be a very historic storm, but Smith's requires a video. There is no other way.
Here you go:
As you see, that started out pretty normal. Well, Smith showed footage of a house being torn apart and said, "This is a house, mm-hmm, see that? We can't play the audio because there's a wordy-dird in there. Somebody said a dirty word[.]" That makes "wordy-dird" the word of the day.
He also explained that people who don't want to evacuate — "because freedom and stuff, freedom" — will ruin his plans for the evening.
"We'll have round-the-clock Team Fox smotherage for the rest of your life on this thing," he explained. "We'll be live all night long tonight; I won't be because I'm going to a family wedding. So if you're supposed to get out, go ahead and get out, 'cause if too many of you perish, they'll send me down there and I need to go to this wedding, okay? Thanks."
Okay, so maybe "smotherage" is the word of the day.
Then, there is this clip, which was found by Marty of Social Club Misfits:
Thanks Fox News! pic.twitter.com/eGV2CCMSIo

— Marty of Social Club (@Deathbymartymar) October 6, 2016
Yeah, there's Smith saying, "This moves 20 miles to the west and you and everyone you know are dead, all of you … and your kids die, too."
As our own Josh Feldman put it, "The smile on his face is what makes it."
Smith was really not messing around today.
[image via screengrab]
Have a tip we should know? tips@mediaite.com