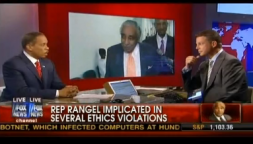 Sometime tomorrow we'll find out whether Rep. Charlie Rangel will become the subject of the latest media circus on the Hill. The House Ethics Committee will release its report — the result of a nearly two-years-long investigation — on Rangel's alleged ethics violations. Depending on what the report says, or whether or not Rangel is able to strike a deal between now and then, the result could be a trial by a panel subcommittee in September. The first corruption trial in almost a decade; the last was for Jim Traficant (whose hair definitely may have been a prototype for Blago's).
Today on Studio B Shep Smith and Juan Williams (side note: these two make a great pair) had a really interesting exchange over possibility of a trial, whether Rangel's prosecution is racially charged (Rangel has said a trial was preferable to being "lynched"), and why not even the president has the ability to talk Rangel off the ledge (he doesn't appear to think he's on).
Says Williams: "You think of the political consequences as we go towards 2010 and the fall elections…It's just bad news, everyone's going to be watching, it's going to be on TV."
And then sort of randomly Shep speculates whether the fact Rangel is black will make the prosecution harder.
Responds Williams: "It makes it harder I think for everyone involved because he's not only a dean of the Congressional Black Caucus, in some sense he's dean of the Democrats in the House. I mean this guy's been here for forty years, and he's a nice man, people like Charlie Rangel. He's got a reputation over those 40 years, coming from Harlem, working his way up to be the chief tax-writer for our nation."
Williams also says that Rangel has been around so long he doesn't believe he has a problem, despite the charges: "I always think the people I deal with in Washington, the politicians are ego-centric, ego-maniacal but I've never thought that about Charlie Rangel…he's been there 40 years, he's 80 years old, it would have to be the President of the United States and I'm not even sure he could convince Charlie Rangel [to step back for the good of the party] at this moment, I think Charlie's in his own head." Watch below.
Have a tip we should know? tips@mediaite.com