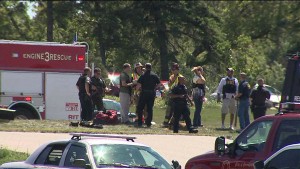 A shooting occurred this morning at a Sikh temple in Oak Creek, Wisconsin. News reports say as many as four people have been killed already, and there may be as many as 30 injured.
UPDATE #1: Police confirm that there are four fatalities inside the temple, and three outside, including the suspected shooter.
UPDATE #2: A Reddit user posted a link to the police scanner feed. You can listen to it here.
UPDATE #3: CNN is now reporting that the shooter had two semi-automatic handguns, and according to NBC News correspondent Pete Williams, police are not releasing his name, and have confirmed that the shooter was dressed in tactical gear and armed with a handgun.
UPDATE #4: The Oak Creek Patch is now tweeting that police are surrounding a house in Cudahy, Wisconsin, and a neighbor believes it may be the home of the suspected shooter. City blocks in the immediate area are being closed off and people are being evacuated.
UPDATE #5: The mother of the man who owns the house the police searched today has provided some information about the suspect. She said that the man was a renter who had "just broken up with his girlfriend" and was roommates with her son for a few weeks before a house across the street was available, and he moved in there.
Witnesses told TMJ4 that someone opened fire in the temple during Sunday morning worship and killed four people, and it is unclear at this point if there was only one shooter, or several, as one witness suggested. The Milwaukee Journal Sentinel reports that one of their reporters received a text message saying that there were "two shooters with children possibly as hostages."
Police have been stationed around the area, according to the Oak Creek Patch.
According to recent information broadcast over police radio, a witness to the shooting told law enforcement the shooter was a white male, with a heavy build, bald head and wearing a sleeveless T-shirt. He was last seen with two handguns.

Scanner reports indicated that as of noon that suspect may still be at large. Police have closed a portion of Howell Avenue and traffic is being diverted.

Flight for Life helicopters have arrived on the scene. A Wauwatosa fire truck and numerous squad cars also are on on the scene.
Watch CNN's coverage of the shooting below:
We will update this story as it develops.
[Image via]
Have a tip we should know? tips@mediaite.com
Josh Feldman - Senior Editor