Shooting Cameras Instead Of Guns: New Video Game Features Role Play As War Zone Journalist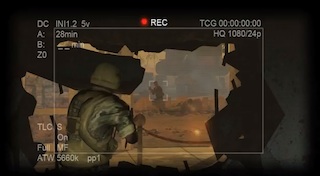 This is pretty fascinating. Warco, a new videogame currently in production, looks at first glance like a thousand other games. The player runs through a modern battlefield amongst other soldiers. Bullets whiz by. Explosives go off. However, if you look closely, the hand of the perspective character isn't holding a gun, it's holding a camera, because Warco is actually full "journalist simulator."
The game's title is short for "war correspondent" and, in it, players play as an Australian journalist in a warzone. Makes sense as the idea was actually thought up by an Australian journalist, Tony Maniaty, in conjunction with filmmaker Robert Connolly who made a documentary, Balibo, about Australian journalists dying in a conflict. It is being developed by Defiant Development.
From Ars Technica:
"The game itself—the title of which is actually short for "war correspondent"—follows the story of journalist Jesse DeMarco. Players will experience the process of filming conflicts, going into dangerous situations armed with nothing but a camera. They will then edit the footage into a compelling news story. The scenarios range from intense bursts of action to quieter moments as you discuss the events of the day with fellow journalists in a hotel. Though the main mechanic will be filming the action, Warco is also very much about choice.

'It's also about navigating through a morally gray world and making decisions that have human impact,' [Defiant's Morgan Jaffit] explained. 'It's about finding the story you want to tell, as each of our environments is filled with different story elements you can film and combine in your own ways. It's both a story telling engine and an action adventure with a new perspective.'"
There have been games in the past where players employed nothing but cameras, but those games typically involved ghosts or Pokemon. Obviously, battlefield journalism is an exhilarating and extremely dangerous world, but it will be interesting to see if mainstream audiences have any interest in playing a game where you can't shoot back at your enemies.
So, for all you gamers out there, do you think the idea will work? It will definitely be worth a look when the game comes out. Until then, below is some footage of the gameplay:
(h/t Reddit)
Have a tip we should know? tips@mediaite.com