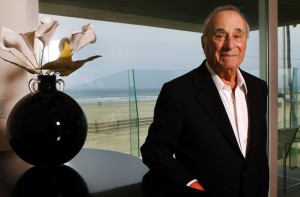 As you are all likely aware by now, Sidney Harman, the former audio magnate who would go on to purchase Newsweek, passed away last week at the age of 92. Before he passed, however, Harman wrote one final essay for the news weekly, slated to appear in this week's issue, about his fight with acute myeloid leukemia. Harman had initially decided not to publish the piece, titled, "Hey, Cancer: Go Stand in the Corner," thinking he had years yet to live and not wanting to alarm anyone regarding his condition.
In the essay, Harman describes the balance he sought to find between focusing on his health while remaining a vital part of his business, as well as why he felt optimistic that he would certainly beat this disease:
I have just learned that I have acute myeloid leukemia, or AML. I don't like it, but as the adage reminds us, "It sure concentrates the mind."

Years ago, the great judge Learned Hand revealed his fantasy. The Colosseum in Rome, every inch crowded with admirers, a galaxy of historic figures, assembled to speak his praise. As Voltaire came to the podium, a voice was heard from the deepest recess of the Colosseum: "Sit down, Voltaire—we want to hear from Learned Hand."

My fantasy? To tell my side of this struggle. No ignoring the awful threat, yet there are poetic ironies. What may save me is a combination of youthful enthusiasm, love, and, believe it or not, old age.
Harman's column comes 32 years after his initial essay for "My Turn" – written for Newsweek, about business, years before Harman entered magazine publishing.
h/t New York Times
Have a tip we should know? tips@mediaite.com