So Aaron Schock Apparently Treated His Staffers to One Last Fancy Steak Dinner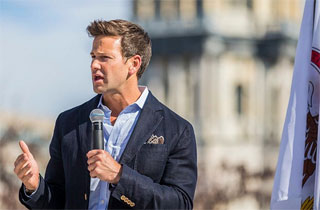 Oh, former congressman Aaron Schock. You got pushed out of office due to your spending habits, prompted by an excessive display of fanciness, and you're being investigated by the FBI. So what do you do? According to some rumors, you keep living the exact same lavish lifestyle that got you in trouble in the first place.
Via The Chicago Sun-Times's political gossip columnist, Michael Sneed, Schock, who officially resigned at the end of March, was apparently spotted treating his staffers to dinner at Jim's Steakhouse in Peoria:
"I'm told it was Schock's swan song — his way of thanking his employees and saying goodbye," said a top Sneed source — who also claims that Schock hosted his congressional staff in D.C. in a private enclave at the pricey but yummy Joe's Seafood, Prime Steak & Stone Crab just before he left town.

"Yes, he was at Joe's Stone Crab and shaking a bunch of top Washington lobbyists' hands before he exited," said a second source, who chatted with Schock before dinner.
Normally, this is the part where we ask questions about where Schock got the money from, why he thought this was a good idea, whether he Instagrammed it (though maybe not; he deleted his account recently). But at this point, we probably know the answers to most of these questions already.
In any case, insert some millennial bromide about Schock doing Schock here.
[Chicago Sun-Times]
[Image via Aaron Schock/Instagram]
—
>> Follow Tina Nguyen (@Tina_Nguyen) on Twitter
Have a tip we should know? tips@mediaite.com