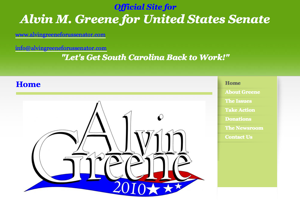 The Alvin Greene for US Senate campaign is officially online! After several impostors brought their love of all things Alvin Greene to the internet and were summarily dismissed by the candidate himself during his media tour, Greene confirmed to, uh, satirical blog Wonkette that AlvinGreeneForUSSenator.com is his one and only online presence.
It appears that Greene is starting to take this campaign seriously– or someone in the South Carolina Democratic Party is forcing him to– because the site is, while not at all the caliber of, say, his opponent Sen. Jim DeMint's, but it is of significantly higher quality than anything coming out of the Alvin Greene campaign so far. For one, it has a biography:
"Alvin Michael Greene was born in Florence, South Carolina. He grew up in Manning, South Carolina and graduated from the University of South Carolina where he earned his Bachelor of Arts Degree in Political Science. Alvin M. Greene is a United States Air Force and United States Army Veteran who has served for thirteen years of honorable service."
It also has issues, which are something that many have notice are sorely lacking with the Democrat's campaign. Specifically, "Better education for our children: More Parental Involvement, Better Facilities," and "Justice: making sure the punishment fits the crime."
It's impossible to understand what exactly Greene is up to, or, better yet, what the Democrats are planning if they did, indeed, have something to do with encouraging Greene to launch a site, something he had previously opposed. Maybe they want to try getting him to lose at a respectable margin, without having to own up to putting too much at stake against DeMint. Or perhaps they had absolutely nothing to do with this, abandoned the race entirely, and Greene put up his own money and designed his own (pretty good!) logo. Whatever the case, it appears this mystery isn't going anywhere anytime soon.
Have a tip we should know? tips@mediaite.com