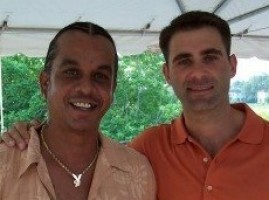 Mike Rogers runs BlogActive, a website that yesterday outed South Carolina Lt. Governor Andre Bauer (who has been in the press of late due to the Mark Sanford controvery.) One might think that the outing of an elected official would big news, but has thus far only been reported by various websites, and has so far been ignored by traditional media outlets, illustrating the very different standards by which online media play. Unfair advantage?
Mike Rogers claims to have an impressive track record of exposing a very specific form of political hypocrisies: Sen. Larry Craig and former Rep. Mark Foley each felt his wrath for "bashing gays" while allegedly engaging in gay acts themselves.
Well now there is a third – South Carolina Lt Governor Andre Bauer, who is a self-described Conservative Christian and has supported an amendment to ban gay marriage in the state. He's also been very vocal about "not being gay."
The lead story on Mike Roger's website "BlogActive" outs the Bauer thusly:
I'm a reporter. I meet with people and I talk to them. Then based on a review of all of the facts, I report closet cases that hurt the gay community. You may not like my style, but I have a track record of 100%.

And for those reasons I am now able to confirm a rumor that has circulated in South Carolina for years. South Carolina Lt. Governor Andre Bauer is a closeted anti-gay politician who stands to replace Mark Sanford should Sanford resign or be impeached (a real possibility as Sanford is caught in his own sex scandal.)

So, what is the deal with Bauer? I have confirmed and spoken to four individuals who I have no doubt are telling me the truth. These men have been hit on by Bauer, with one of them telling me it happened at least five times since Bauer's election in 2003. To a varying degree I have met with and believe the sources. And, as you'll recall, I have that 100% record.

This was still not enough for me to report on him. Then another call came in and I met with the source while he was visiting DC recently. "He's gay," the source told me.

"How do you know?" I asked.

"Because I've had sex with him on two separate occasions."
Several websites have not shied from sharing this story: Gawker and Huffington Post have joined a handful of websites that focus on Gay themes in reporting the story. Thus far, however, this story has yet to be picked up by "traditional" news outlets in either television, print or online. A Google News search on "Andre Bauer" reveals only 8 articles that focus on the story of reported on BlogActive, all of which are stand alone websites, except for Advocate.com.
Have a tip we should know? tips@mediaite.com