Last week, South Carolina Gov. Henry McMaster signed an executive order that prohibits any state or local funding from going to women's health organizations that provide abortion services, which were frankly already limited to begin with. The executive order follows President Donald Trump's decision to sign off on legislation that allows states to withhold federal funding from Planned Parenthood and other organizations that similarly provide access to abortion.
In a statement explaining McMaster's decision, his office not only took a hard stand against abortion providers, and also noted that the South Carolina Department of Health and Human Services had been ordered to seek waivers from the Centers for Medicare and Medicaid Services to allow the agency to exclude abortion clinics from the South Carolina's Medicaid provider network — a move that directly targets low-income women's ability to have the procedure.
The decision from McMaster is one that is undoubtedly fueled by disrespect for women, to the extent that he'd like to see them grovel and struggle against barrier after barrier for a medical procedure. But it's also undeniably fueled by ignorance — the idea that underlies this executive order is that Planned Parenthood and other women's health groups that receive public funding and also provide abortion services is that this funding pays for said abortion services.
Planned Parenthood has released diagram after diagram, statement after statement, that shows this is not the case.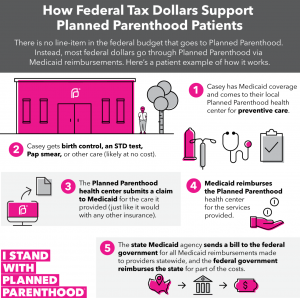 Planned Parenthood's services are largely funded by seeking reimbursements from Medicaid. While preventative health services such as birth control and contraception, as well as STI tests, pap smears, and breast cancer screenings are reimbursed, abortion services aren't.
Defunding Planned Parenthood is not going to affect abortion services, which never benefited from public funding, but will limit the organization's ability to provide all of the other resources and health services that prevent the need for the procedure.
This policy in itself raises another set of questions about why low-income women's health and safety are undermined just because of the personal beliefs of some. Of why safe, legal abortion — one thing stopping the United States from being a country of forced births — is discriminated against by government agencies unlike any other health services. But the fact that so many disproportionately male lawmakers with such tremendous, unilateral power to make decisions about what women are and aren't able to do with their bodies are ignorant about the policymaking around abortion rights is the most immediately concerning thing.
McMaster's ignorance about Planned Parenthood and abortion providers, in limiting their ability to provide the health services and education that prevent the need for abortions, will likely lead to higher rates of unintended pregnancies — as well as higher rates of STI's and even breast cancer. And despite blockading abortion access with legal, geographic and, of course, financial barriers, abortions will continue to happen — in back-alleys, at home, in another state — but at the expense of women's safety.
The United States currently suffers from the highest maternal mortality rates in the industrialized world, a crisis so preventable that it shows the dangers of politicizing women's health. It's time for lawmakers to stop twiddling their thumbs and playing dumb about how we collectively arrived at this point as a nation, and to that end, it's time for them to take responsibility for the endless, irreparable consequences of their ignorance and get educated about lawmaking and women's rights. At the end of the day, if lawmakers aren't moved by the morality of this, they should at the very least be moved by the politics of it — their constituents are suffering, and their constituents will vote.
This is an opinion piece. The views expressed in this article are those of just the author.