Spencer Garrett, Boyfriend of CNN's Dana Bash, Calls Trump 'Psychotic Twit' in Deleted Tweet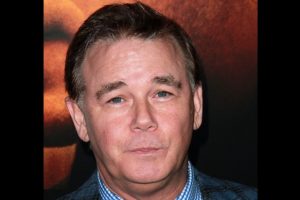 The boyfriend of CNN's Chief Political Correspondent Dana Bash was apparently not all too happy with the recent rhetoric that President-elect Donald Trump has been using against CNN.
Spencer Garrett — a highly recognizable character actor who has appeared in projects like Star Trek: The Next Generation, Judging Amy, Aquarius, House of Cards, and dozens more — fired off a Tweet in direct response to Donald Trump late Monday night that was quickly deleted.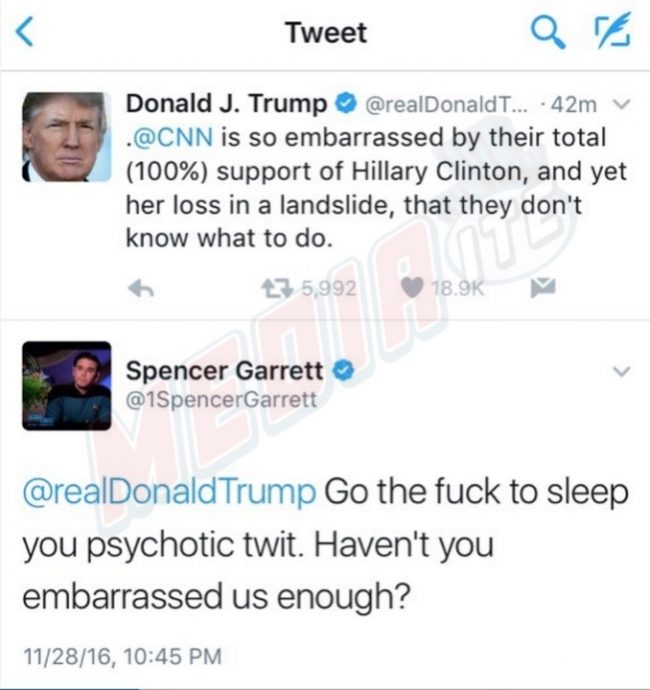 "Go the fuck to sleep you psychotic twit," Garrett responded back. "Haven't you embarrassed us enough?" The Tweet was immediately deleted, but not before it was screengrabbed and provided to Mediaite exclusively.
The President-elect of the United States, who takes the Oath of Office in only 52 days, has embroiled himself in a number of Twitter controversies over the past several days. One of the targets of his ire was CNN, the network where Bash is a considered one of the biggest political stars. The issue began on Sunday when Trump randomly took to Twitter to harangue media bias for what he alleged was "serious voter fraud," with zero substantive evidence to support his wild assertions.
Serious voter fraud in Virginia, New Hampshire and California – so why isn't the media reporting on this? Serious bias – big problem!

— Donald J. Trump (@realDonaldTrump) November 28, 2016
CNN's Jeff Zeleny unwittingly found himself in the crosshairs of Trump's tweetstorm that ensued. It was a head-scratching exchange that saw the President-elect retweet a 16-year-old and then call Zeleny a "[b]ad reporter."
As the war against CNN continued, Trump alleged that the net was, "…so embarrassed by their total (100%) support of Hillary Clinton." That's when Bash's boyfriend Garrett responded with his own unique thoughts about exactly what kind of twit he thinks Trump is.
Bash has interviewed Trump before. Just weeks before the election, the CNN star pressed the then-GOP nominee about his strange campaign move to open a new hotel in Washington rather than commit his efforts to crucial swing states.
Trump was blunt with Bash in return:
"For you to ask me that question is actually very insulting, because Hillary Clinton does one stop and then she goes home and sleeps, and yet you'll ask me that question. I think it's a very rude question, to be honest with you."
Earlier this year, the Washington Post chronicled Bash and Garrett's relationship in a piece by Helena Andrews-Dyer called, "Dana Bash and Spencer Garrett still going strong." Garrett's social media feed remains largely apolitical.
—
[image via Shutterstock]
Have a tip we should know? tips@mediaite.com