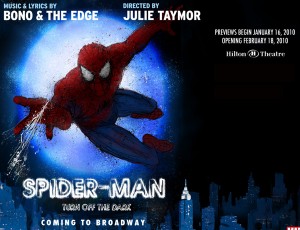 Spider-Man: Turn Off the Dark has taken its share of criticism and ridicule as its suffered from several setbacks and pushed back its opening several times. The play got some good news this week with some high-profile endorsements as the show continues its previews, and word of a new finale. All of these delays have left reporters, who are seeing the show between now and the scheduled March 15 opening, in a strange spot. What can they reveal about the much-anticipated, extremely expensive production? Here, a rundown of how some writers are handling the long wait for opening night, and how delays are making them part of the story:
It reflects a changing set of rules:  As the show has been pushed off time and time again, "critics have been growing impatient," says Charles McNulty in the Los Angeles Times. Some of them "broke protocol and filed assessments even though the show was still incubating in previews."  No matter whether how you feel about these early reviews, "the outlaw values of the Wild, Wild Web have changed the landscape for the reporter and the reported alike." But enough is enough. "Until this latest postponement, I haven't felt any urgency to review the production before its producers deemed it ready. But I think it's perfectly acceptable for critics to jump the gun on this one." Let critics be critical when it's deserved.
I couldn't wait…to praise it: This show has been in previews for"an unreasonably long period of time," says Jay Lustig in the Newark Star-Ledger. And "it's time to go public about the famed web-slinger's latest incarnation." It would be "absurd" to wait to write about it when I've already seen the show. The thing is, "I ended up enjoying it very much," and "even in its current state (without the improvements that may follow), it's worth seeing." This may be a case where the show will "appeal more to the general public than critics which could explain why "producers want to keep the critics away." After all,  it's "the public's curiosity" that is filling seats right now.
I'm moving forward according to plan: I was planning to stick to the rules, but "the producers of Spider-Man have quite demonstrably abused, confused, and perverted this long tradition of creative civility between theatrical endeavors and media outlets," says Scott Brown at New York. I will publish a review, "or something not unlike one," around February 7, when they announced they'd be opening. "This isn't churlishness, and it isn't something I plan to make a habit of." They can keep pushing their date back, but I won't budge on mine.
I hope the show lasts, so I can see it: I love a good disaster, says Robert Trussell in the Kansas City Star. Since I won't be in New York City for a while, "I can only hope the producers keep the show running even if it loses buckets of money, which it almost certainly will." Why do I want to see it? "Some of my fondest memories are watching expensive, ill-conceived shows that improbably made it to Broadway." These "hubris-fueled catastrophes" are always pleasing, but Spider-Man may take the cake and require theater historians to "make sense of it" someday.
Have a tip we should know? tips@mediaite.com