Spitzer's Accuser Apologizes for Fabricating Assault Story; Police Investigation Continues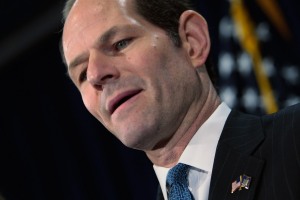 The woman who accused Eliot Spitzer of assaulting her this Saturday admitted to fabricating her complaint, and returned to her native Russia, according to reports Monday.
"There is no case here," Spitzer's attorney told The New York Times, and also provided the paper with the accuser's email in which she apologized for making up the allegation. "There was no assault."
A spokesperson for Spitzer had earlier released a statement denying the accusations. "There is no truth to the allegation," spokesperson Lisa Linden had told CBS New York.
The accuser, a woman in her 20s, had a cut on her arm and had been rushed to the hospital, according to initial reports. Although she told doctors that Spitzer had choked and shoved her, she reportedly stopped cooperating with the police by Monday.
According to Spitzer's lawyer, the young woman had threatened suicide, made the superficial cut on her own wrist, and called the police. The Times reports:
She left the hospital on Sunday and flew to Russia as scheduled, Mr. Kaufmann said. And on Monday, she sent the email. "I just read the news, I'm so sorry," she said, offering to send a statement to the police "that my report was all fake." She said she would tell the police that she attempted suicide "as I had before."

"You tried to save me," she wrote to Mr. Spitzer, according to the copy of the email provided by Mr. Kaufmann.

She suggested that she made up the assault story because she was scared she would be hospitalized for a long period. She offered to send "documents from all mental homes where I have been — Russia, Catskill New York, California."
Spitzer notoriously had to step down as governor of New York in 2008 after he was revealed to have patronized prostitutes. He hosted a short-lived CNN show, and mounted an unsuccessful run for New York City comptroller, which he ended up losing the Democratic primary.
The police have declined to comment on the accuser's email, and have said that their investigation into the alleged assault continues.
[h/t Gawker]
Have a tip we should know? tips@mediaite.com