St. Louis Mayor: 'If Protestors Are Not Violent, Police Will Not Be Aggressive'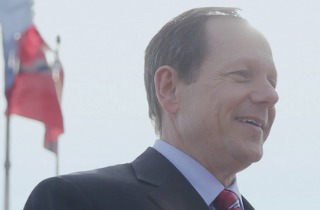 St. Louis Mayor Francis Slay has a statement out today regarding the impending grand jury decision in Ferguson over the shooting of Michael Brown. And Slay assured police have agreed to some protestors' requests for rules of engagement and they will not get aggressive as long as the protests are non-violent.
Slay praises both Attorney General Eric Holder and Michael Brown Sr. for their public comments in the past few days about stemming violence in the community. He fully expects there to be protests, and explains police met with protest leaders to discuss potential police overreaction to the protests.
Some Ferguson activists have circulated 19 proposed rules of engagement. Here are some of the highlights:
The first priority shall be preservation of human life.

Police will wear only the attire minimally required for their safety. Specialized riot gear will be avoided except as a last resort.

Crowd control equipment such as armored vehicles, rubber bullets, rifles and tear gas will not be used.

Media, Legal Observers and Medics shall not be considered participants in protests and shall be allowed to do their jobs freely.

Police will be instructed to be tolerant of more minor lawbreaking (such as thrown water bottles) when deciding whether to escalate the use of force.

Excessive force and other forms of police misconduct will not be tolerated.
Mayor Slay says that he and police commanders agreed to some of their requests, but not all of them "because those rules would have limited officers' ability to keep people and property safe." He did not go into specifics about which points they won't go along with.
But he assures that police will not escalate, as long as protestors do not give them any significant reason to do so:
If protesters are not violent, police will not be aggressive. But, if some protesters turn violent or threatening, police will respond to keep everyone safe — including bystanders, the peaceful protesters, and police officers themselves.

When demonstrators are being civilly disobedient, they will, in most cases, be given a chance to adhere to the law before they are arrested. And then, if necessary, they will be arrested in a non violent manner.
You can read his full statement here.
[image via Francis Slay]
— —
Follow Josh Feldman on Twitter: @feldmaniac
Have a tip we should know? tips@mediaite.com
Josh Feldman - Senior Editor