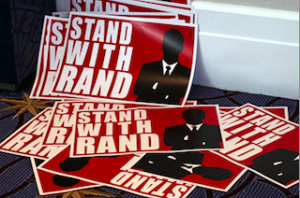 Despite what you or the Federal Elections Commission may have thought, Stand With Rand PAC has nothing to do with Sen. Rand Paul (R-KY). At least that's what the group claimed in a letter to the FEC after they were informed that they are not allowed to use the name of a political candidate without specific authorization from that candidate. The letter, first picked up by Public Integrity's Dave Levinthal, explains that the group actually stands with author Ayn Rand.
"This Committee responds to its pending RFAI by noting that it is unaware that the late Ayn Rand, noted philosopher and author and of Atlas Shrugged, is seeking election to federal office," Stand With Rand's letter reads, with no small amount of irony baked in. It later argues that the FEC provision has acted to "suppress citizens' first amendment rights to engage in robust political speech."
"Such overbroad application of 102.14(a) would prohibit citizens from banding together and using almost any common name; for example, a youth-oriented PAC named Think Young would share the name of 3 Congressmen and would thus be impermissible," the letter continues. "With 435 Representatives and 100 Senators many first, last, and even middle names would be prohibited from such broad overreach. Thus, the use of just a first or last name is insufficient to trigger such a harsh restraint on speech."
This is the "Stand With Rand" website homepage: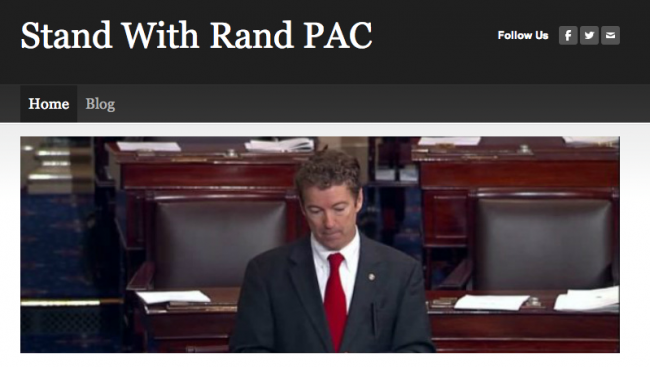 This is their official t-shirt: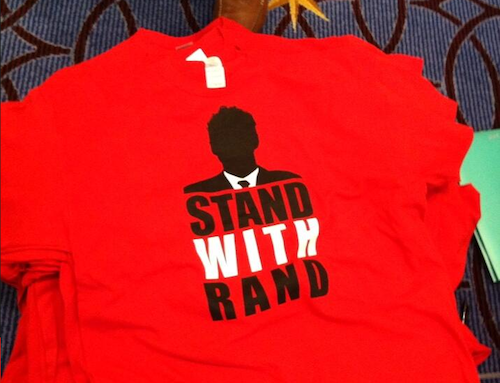 And, of course, many will remember that #StandWithRand was the go-to Twitter hashtag during Paul's 13-hour filibuster. It was embraced by Paul's colleagues in the Senate and echoed by Paul himself on Twitter the following day.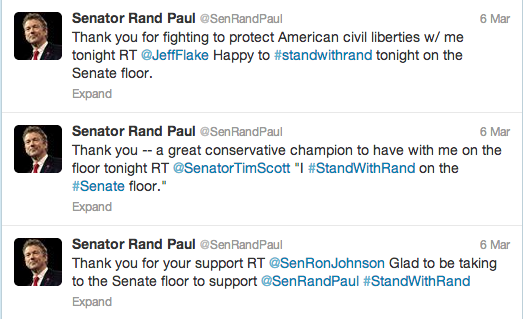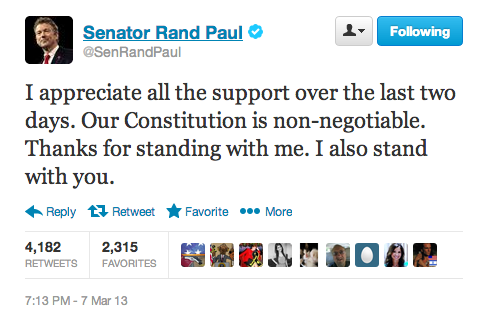 On the website, the group does stress that they support candidates like Rand Paul, and not Rand Paul exclusively, but the senator does get the bulk of the attention:
"Welcome to the official page for the Stand With Rand Political Action Committee (PAC).

On March 6, 2013, Senator Rand Paul took the rare step of filibustering President Obama's pick for CIA Director. For 13 hours, Senator Paul literally stood up for American citizens' rights to due process as granted by the Bill of Rights.

This PAC was formed in March 2013 to support candidates like Rand Paul who stand up for the Constitution and, more specifically, the Bill of Rights. Examples of the types of candidates that we support include Senator Rand Paul, Senator Mike Lee, Senator Ted Cruz, and Virginia Gubernatorial Candidate Ken Cuccinelli."
As Senior Counsel Paul S. Ryan of the nonpartisan Campaign Legal Center (presumably no relation to the Wisconsin congressman) told Public Integrity's Levinthal, "Any argument by the Stand with Rand PAC that the PAC is named after Ayn Rand, and not Sen. Rand Paul, is a ridiculous one that should be rejected with laughter by the FEC. It is abundantly clear from the organization's website that the PAC is named for Sen. Rand Paul."
Of course, Sen. Rand Paul's love for Ayn Rand runs deep, despite the fact that he was not named after the libertarian icon, but a Super PAC dedicated to the election of a novelist who died more than 30 years ago seems rather unrealistic and ultimately fruitless. Or maybe all the good tea party puns were taken?
In reality, this entire story just exemplifies the absurdity of America's convoluted campaign finance system and I fully expect Stephen Colbert to have a field day with it later this week.
[h/t Washington Post]
[photo via The Verge]
— —
>> Follow Matt Wilstein (@TheMattWilstein) on Twitter
Have a tip we should know? tips@mediaite.com