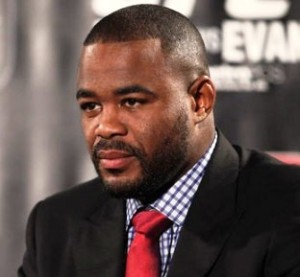 Minnesota Vikings' Chris Kluwe made headlines last year when he firmly spoke out in support of same-sex marriage. Last month, he and Baltimore Ravens' linebacker, Brendon Ayanbadejo, a long-time advocate, filed an amicus brief with the Supreme Court, asking the Court to affirm the Ninth Circuit's decision striking down California's Proposition 8.
The two star athletes are now trying to enlist other high-profile athletes to sign onto the brief. According to Ayanbadejo, so far Dominique Foxworth, President of the NFL Players Association, and Patrick Nero, athletic director at George Washington University, agreed to sign on. Last week, UFC star Rashad Evans also joined the cause, stating:
"I've never been a homophobe, never understood what that is all about. I knew some people who were gay and never cared about their sexuality. But at the same time, I didn't fully understand the issues around gay people until my friend BA started telling me about his full public support for gay marriage. We talked about the issue and I decided its not enough to not be against a minority, if you want things to go better for them you have to speak up with them. I'm a UFC fighter, a macho-type sport. I am a heterosexual guy in a tough macho sport, which is exactly the reason I feel a duty to say I support gay marriage and gay rights. I have nothing to gain personally from supporting this issue, and that's the point. Society as a whole is better when there is equality, and I want to live in a country where everyone has the same rights because we all benefit from that."

Outsports' Jim Buzinski called Evans's statement "one of the most powerful affirmations of gay equality I have seen from an athlete."
The updated brief must be submitted by March 24th. Whether additional athletes will sign on remains to be seen.
Have a tip we should know? tips@mediaite.com