Star Of Showtime's Look On Dangers Of Social Media… And Security Cameras In Dressing Rooms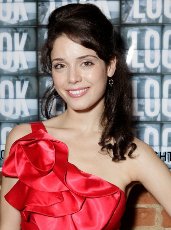 Viewers see a surveillance camera conversation between two high schoolers at a diner, talking about their mutual friend whose mom ran away. In another conversation, we see a man reveal to his wife he was bullied as a kid – only to be bullied by her in return.
These fictional scenes are from Showtime's new R-rated series Look. We talked to Ali Cobrin, one of the stars of the show, about social networking, security cameras in dressing rooms and more.
Cobrin was a fan of the original movie, which came out in 2007 and was also written, directed and produced by Adam Rifkin. But just three years later the movie "is dated." "It was Big Brother, but with the TV show, it's the addition of Little Brother," said Cobrin.
"I told women on national television to keep their panties on, and I mean it."
Little Brother, which includes Twitter and other social media and is "a character of the show," is part of Cobrin's character's life on Look – but also in real life. When we met in New York City last week, she had three handheld camera devices with her. It isn't the only thing she's taken from the series. "Fortunately, I've learned a lot about the scary things that have happened through doing all the press for the show," she said.
That includes the fact that surveillance cameras in dressing rooms are legal in 37 states (a part of the Showtime series that shows up quite a bit). "I told women on national television to keep their panties on, and I mean it," said Cobrin.
Another potential danger of social media – geotagging, where you can upload pictures and Google Maps adds your exact location. Google itself was a topic – which picks what search results come up for you. For Cobrin, it's IMDB, then Twitter, then this Maxim photoshoot. "We did the shoot in the same style of the show," she said. "It's voyeuristic."
The 21-year-old Cobrin has a theater background, which helps with the show. "The scenes were like a play in the sense that you did it in real places," she said. "We were in real schools with real students during the school day."
And as Cobrin's career continues, the public will continue to Look at her, in new, intrusive ways. "It's very bizarre," she told us. "Being a public figure has changed. You don't have to have paparazzi following you to be really in the public."
As we finished the interview, a man next to the coffee shop table held up a blackberry in Cobrin's direction – was he taking a picture? just sending an email? It was another example of art imitating life, in the new media world.
Check out this scene from Sunday night's Look below:

—–
» Follow Steve Krakauer on Twitter
Have a tip we should know? tips@mediaite.com