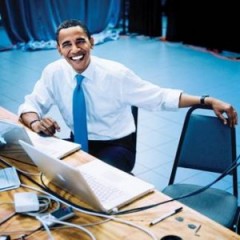 Probably if President Obama hadn't been averaging one major speech per week for the last twelve months (and at least that as a candidate for the previous two years) than absolutely all eyes would be on the President tonight for the most important speech of his life. But it's hard to get all that worked up about it when the man has been taking over the airwaves on a pretty regular basis for quite some time. One imagines that if tonight doesn't go that well (though the bar has been set fairly low this week) we'll hear from him again in a couple of weeks.
Nevertheless! It is the State of the Union, and technically Obama's first, and along with that comes a ton of pomp and circumstance and a day filled with predictions about what the President may or may not say, and what Joe Wilson may or may not holler (Time says nothing, but more on that below).
From the NYT:

When Mr. Obama presents his first State of the Union address on Wednesday evening, aides said he would accept responsibility, though not necessarily blame, for failing to deliver swiftly on some of the changes he promised a year ago. But he will not, aides said, accede to criticism that his priorities are out of step with the nation's.

From CBS's Mark Knoller (follow him on Twitter here if you're not already):

It's a little known secret about the House Chamber. Inside the lectern from which the U.S. president addresses Joint Sessions of Congress, there's a small locked box. Once a year, just before a president arrives to deliver his annual State of the Union Address, the House Sergeant-at-Arms unlocks the box with a four-sided key that dates back to the days of Thomas Jefferson. The cover flips up to reveal a red button about the size of a half-dollar coin. If the president presses it during his speech, he gets to start his presidency over again. If only. [HA]

The possible state of the post-apocalyptic union:

For those keeping Continuity of Government score at home tonight, there's a new wrinkle this year : Not only will there be a Cabinet member hidden in some undisclosed location to prevent a complete beheading of our government, but the senior-most Cabinet secretary will also be absent from the speech, per the President's direction to her to stick to a previously scheduled international meetings in London on hot-button national security issues Yemen and Afghanistan.

The other speech people are waiting for:

Congressman Joe Wilson will deliver the first ever live response to a State of the Union via Facebook on Wednesday. The South Carolina Republican is most known for blurting out "You lie!" during President Obama's last speech to a joint session of Congress. Wilson will deliver an address live on his Facebook page approximately 30 minutes after Obama concludes the State of the Union.

And finally the speech the media may be most obsessed with tomorrow:

The chief executive officer speaks at a press conference today in San Francisco, where he will announce "a major new product that we're really excited about," he said this week in a statement with Apple's earnings.
Have a tip we should know? tips@mediaite.com