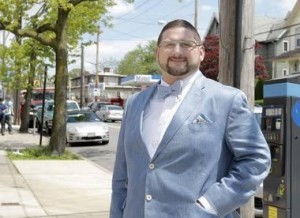 Just in case you wanted another reason to detest lawyers, Staten Island or both, attorney Richard Luthmann gave the Internet ample reasoning for all three options by seeking to settle a lawsuit via Game of Thrones-esque combat.
No seriously, I'm not kidding.
According to SILive.com, the local lawyer and would-be Staten Island Borough President filed a motion with the judge to approve of a trial by combat:
"The allegations made by plaintiffs, aided and abetted by their counsel, border upon the criminal," Richard A. Luthmann wrote in a brief recently filed in state Supreme Court, St. George. "As such, the undersigned (Luthmann) respectfully requests that the court permit the undersigned to dispatch plaintiffs and their counsel to the Divine Providence of the Maker for Him to exact His divine judgment once the undersigned has released the souls of the plaintiffs and their counsel from their corporeal bodies, personally and or by way of a champion."
Basically, Luthmann wants to fight either the plaintiffs in his case or their chosen representatives in a contest with one allowable outcome — one side lives and wins the case, while the other dies and loses everything. The lawyer also notes that, despite the apparent ludicrousness of the situation, this particular option for legal recourse remains just that — legal.
The Game of Thrones comparison doesn't come out of nowhere, as Luthmann is a big fan of the show:
"They want to be absurd about what they're trying to do, then I'll give them back ridiculousness in kind," said Luthmann, an admitted fan of "Game of Thrones," the smash HBO series based on the George R.R. Martin books in which three disputes have been settled in its five seasons through bloody trials by combat.
Luthmann is being sued because, according to the plaintiffs, he told a former client to move his money around so as to make it unreachable by creditors. Such was highly illegal, and while the former client did just that, Luthmann denies doing anything wrong and maintains that he's being branded a scapegoat.
[h/t Uproxx, SILive.com]
[Image via Twitter]
— —
>> Follow Andrew Husband (@AndrewHusband) on Twitter
Have a tip we should know? [email protected]