On Wednesday night the Massachusetts state government's official Twitter account posted a tweet meant to bring attention to Sexual Assault Awareness Month. The effort is clearly a well-intended one, as seen in some of the programs and initiatives spearheaded by the state throughout the month of April. Unfortunately they could not have possibly worded it in a more counter-productive way. The tweet, which has since been deleted after staying up over night, read "Sexual assault is always avoidable…" and included a link to the Sexual Assault Awareness Month's page, screengrab via: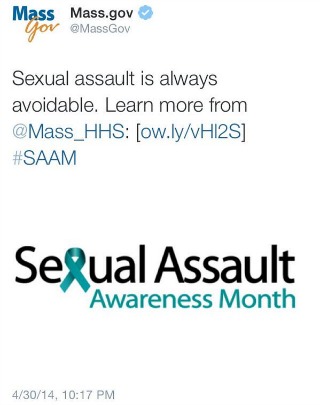 As many who took offense to it were quick to point out, that sort of language seems to put the onus of responsibility on the victims.
Sexual assault is not something you "avoid" like a pot hole, it's a violent act perpetrated by criminals. And yet the idea that victims of rape are somehow, at least in part, complicit in their assault still persists in both cultural, and institutional forms. Consider the recent case of a Montana teacher who was given a one-month sentence for raping a 14-year-old student. The judge in the case said the girl was "older than her chronological age" and "as much in control of the situation." (That sentence is finally being overturned). Last summer there was the news of the 14-year-old Louisiana girl who had been raped years ago by guards in a detention center. In an effort to get out of paying the girl for damages, parish officials explained, essentially, that she was asking for it. "These girls in the detention center are not Little Miss Muffin," one said.
Jennifer Long, director of AEquitas: The Prosecutors' Resource on Violence Against Women, explained that this sort of thinking is still a problem to the Christian Science Monitor:
"Adolescent victims are consistently blamed for either seducing their rapist or for some other behaviors."Members of the public have stepped up to protest in previous cases, such as the teen rapes in Steubenville, Ohio, and "to educate their own community and beyond about the importance of not victim-blaming," Ms. Long says, "but it seems that we are still stuck in this cycle … where [some of] the very people who should know this information – judges, prosecutors, and other professionals – still believe in the myths and still engage in very dangerous practices."
No one should reasonably assume the state of Massachusetts is sanctioning the idea of victim blaming with their tweet – in fact they're working toward the exact opposite it seems. But their unfortunate choice of wording is an important reminder that the concept of victim-blaming is still sometimes subconsciously ingrained in the way we talk about rape.
They've since apologized in a series of tweets:
(1/4) An apology from Geoff Kula, Director of http://t.co/JD4mnwFvsn:

— Mass.gov (@MassGov) May 1, 2014
(2/4) I deeply regret the message sent last night regarding sexual assault and apologize to all sexual assault victims.

— Mass.gov (@MassGov) May 1, 2014
(3/4) We in no way meant to suggest that victims of sexual assault are to blame for the crimes committed against them.

— Mass.gov (@MassGov) May 1, 2014
(4/4) To learn more about what you can do to combat violence or if you need assistance, please see this blog: http://t.co/JHv9vZZjF7

— Mass.gov (@MassGov) May 1, 2014
— —
>> Luke O'Neil is a journalist and blogger in Boston. Follow him on Twitter (@lukeoneil47).
Have a tip we should know? tips@mediaite.com