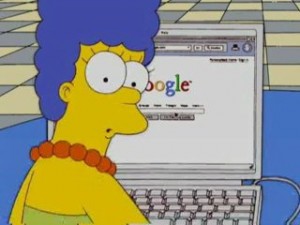 If you are a hack comedian and you want to get a few laughs about "bloggers," you should make them out to be timid male conspiracy theorists who live in their parents' basement. That'll show 'em!
Not so, says a recent study: stay-at-home moms are likelier than the rest of the adult population to read blogs, post to blogs, and maintain blogs of their own.

From a study by the National Retail Federation:
When it comes to the power of a blog, many experts liken it to a sub-woofer stereo system with a bull-horn – meaning that one can never completely hide what they say on the world-wide web. Mom has found creative and useful ways to utilize her talents and ideas through these blogs by creating coupon sites, networking and message boards and even advice columns. The survey found 15.3% of moms say they maintain their OWN blog.
Of course, there is a difference between maintaining a small personal blog and maintaining one for truly public consumption, but stay-at-home moms shouldn't be written off in that department, either. The Mommy & Family section of BlogHer, which aggregates many blogs by stay-at-home moms, provides a snapshot of just how many take their blogs seriously. Some are influential and widely-read: Heather Armstrong, a.k.a. Dooce, jumps most readily to mind as a formidable stay-at-home parent — in her about section, she writes, "I am a Stay at Home Mom (SAHM) or a Shit Ass Ho Motherfucker;" probably not written with the kiddies in mind. But there are others with clout; blogs like The Mommy Files product review blogs like Classy Mommy, and formidable parenting-oriented blogs — though not entirely written by stay-at-home moms — like Babble and UrbanBaby (full disclosure: I used to intern for Babble parent Material Media, and did work for the site). Nevertheless, the reach and influence of such blogs is continually underestimated.
It's worth highlighting the point that stay-at-home moms read blogs more than civilians. People who write blogs shouldn't necessarily hear political trolls or the young, tech-obsessed front page of social aggregator sites like Digg as the true voice of the Internet; they are merely a vocal part of it.
The next time you think about bloggers as parents' basement dwellers, consider the parents who own the basements; they might be the ones doing the linking and posting.
(h/t Birmingham Business Journal)
Related: the complete NRF study.
Have a tip we should know? tips@mediaite.com